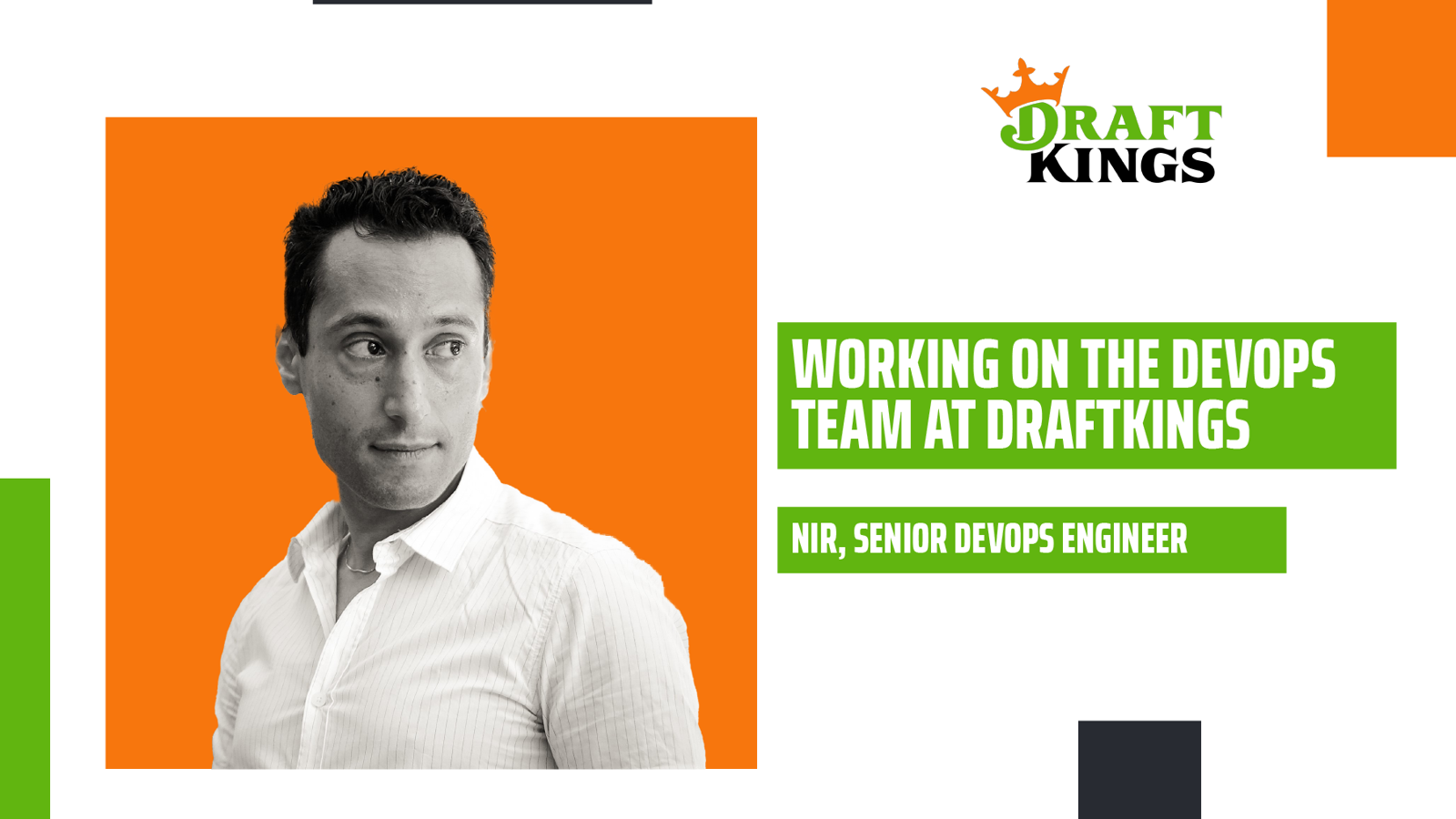 What You'll Do On The DevOps Team At DraftKings
Meet Nir, who is a Senior Engineer on our DevOps team. The DraftKings DevOps team works with engineers across the business to develop, maintain, and enhance our platform infrastructure. On his team, Nir utilizes cutting-edge tech and works with his team to come up with creative solutions to solve complex tech challenges. Learn more about Nir and the work he loves tackling every day.
Tell me a little bit about yourself and your role at DraftKings.
I'm Nir - I'm a Senior DevOps Engineer at DraftKings. I live with my wife and daughter in Israel. I'm only a 15-minute bike ride from our office in Tel Aviv or 30 minutes on foot. I joined DraftKings during a memorable time in my life. My first day at DraftKings was the same day as my birthday, and my daughter was born just five days earlier. Lots of new beginnings during that time - it was both exciting and challenging.
I work on the PaaS team at DraftKings. My team manages the Kubernetes platforms and Observability systems. We have the unique opportunity to work with the core team in Bulgaria and collaborate on a smaller scale in Tel Aviv. 
What is DevOps? What role does it play at DraftKings?
DevOps is usually described as a set of practices and principles that combines software development (Dev) and information technology operations (Ops) to foster collaboration and improve the efficiency and quality of software delivery.
In my own words, DevOps' aim in an organization is to improve the process of software development and delivery. DraftKings achieves this by creating a team of people who use dedicated tools, practices, and methodologies to help build great software.
Our goal is to provide our customers with the best possible sports entertainment experience, which requires us to develop software at a high pace and on a large scale. We need an infrastructure that supports multiple complex background operations during events like the Super Bowl, which brings high-volume traffic to our platform. DevOps makes sure this is a task we can handle successfully.
What do you and your team work on? 
Our tech stack is very diverse and challenging since we handle lots of data and actively scale complex hybrid infrastructure based on the cloud and even on-premises. DevOps engineers work with technologies such as GitOps, Kubernetes, Prometheus, Grafana, ElasticSearch, Consul, etc. The team works efficiently to provide the best solutions for our customers, mainly SREs and Software Developers. We research new technologies, tools, upgrades, cost optimization, and best practices. 
What drew you to DraftKings?
There were several reasons why I chose to join DraftKings. My hiring process was very smooth and efficient. While working with my recruiter, I realized there were a lot of opportunities at DraftKings that I wouldn't find anywhere else: the flexibility to work from home or in the office, career growth, and working with tech on a global scale. The sticking point for me was the business itself - the sports entertainment industry is dynamic and evolving. Thus, I'll gain new skills and learn something new every day.
What does a typical day look like for you?
For me, the wonderful thing about working on my team is that every day can look different. The work we do is so unique that we allow a lot of room for creative solutions. The main recurring events are related to the agile work methodology - daily syncs, sprints and plannings, lots of communication and collaboration, etc. Besides that, my day-to-day tasks are very dynamic and constantly evolving. This workflow excites me as a professional who strives to grow because it allows me to pick up new skills regularly.
What helps you succeed and thrive at DraftKings?
I believe curiosity and an open mind can take you a long way and are incredibly important for every individual, especially in engineering. I'm always looking for the next tool or technology to fine-tune my skills - I love learning and being curious about the world around me. At a global company like DraftKings, communication is crucial. On top of being a team player and creating open discussions, sharing your knowledge with others is equally important. We can be more nimble and grow faster when we work together.
How do you solve any roadblocks that come up?
Teamwork, for sure. Trusting my teammates and relying on their experience and willingness to share their wisdom is extremely motivating and a huge factor in my professional growth. Open communication with my manager also significantly affects my ability to solve roadblocks. Roadblocks are inevitable, but we get better and faster at solving them with each passing one.
Any advice for someone who's looking to join the DevOps team?
DraftKings provides an incredible work atmosphere where people can own their work, success, and future. I advise anyone looking for a new career challenge to take advantage of that opportunity because I believe it's rare. It's exciting to be part of something so big - millions of customers, cutting-edge tech, collaborative culture that nurtures amazing talent from all over the world.
If you're ready to join a global engineering team that works tirelessly to produce best-in-class products and services for our customers, check out the DevOps job opportunities at DraftKings.
Want to take a deep dive into our Engineering world at DraftKings? Learn more on our DraftKings Tech blog!
Check out the latest DraftKings blog posts and meet our global team!
Read our Blog