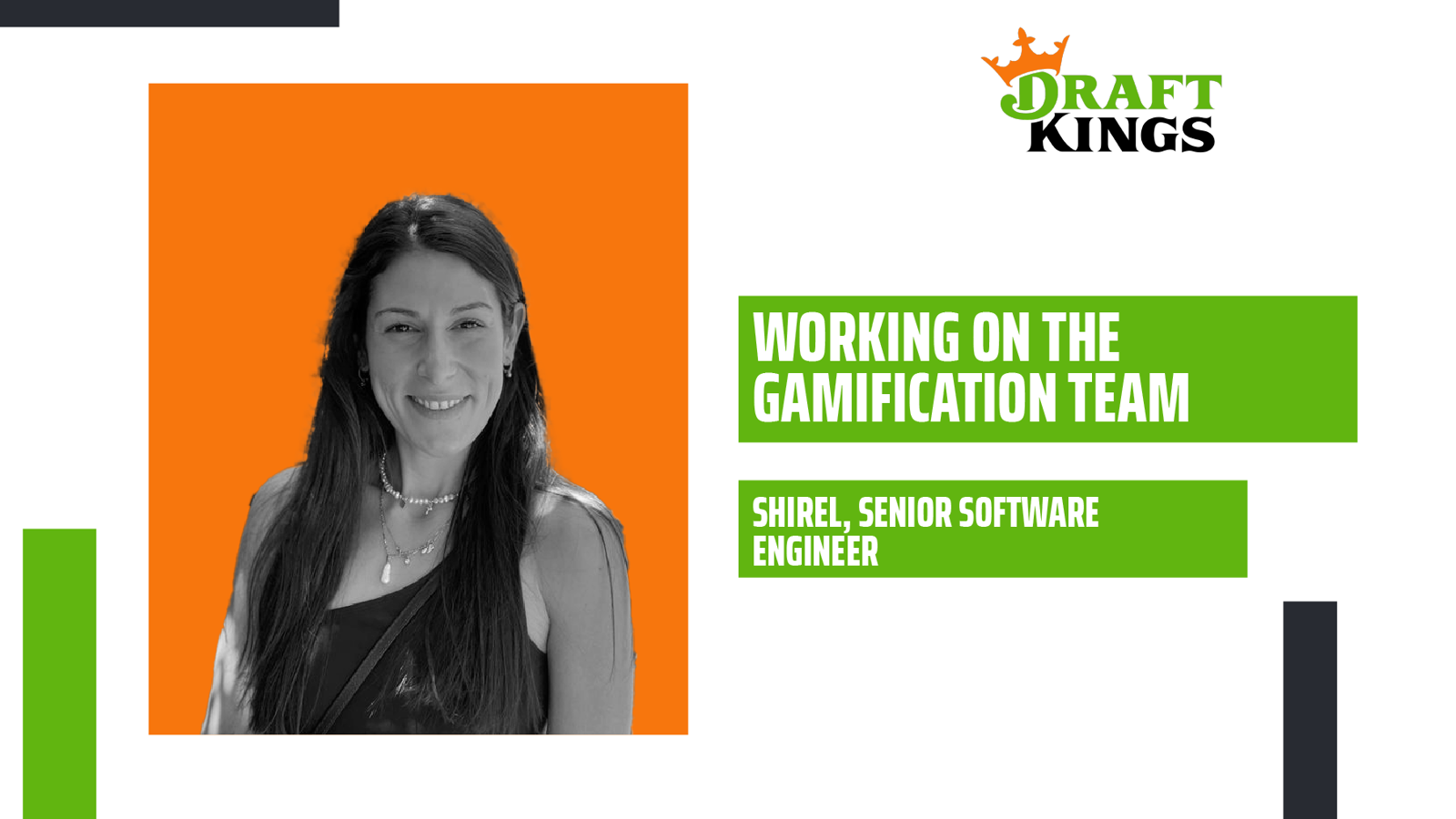 What Is Gamification Engineering At DraftKings?
Our Tel Aviv team is part of a growing tech hub in Israel. The engineering team is developing products that bring a new wave of technology and innovation to the iGaming industry. To learn more about this team's work, we chat with Shirel, Senior Software Engineer on the Gamification team.
Shirel joined DraftKings just a year ago, bringing extensive knowledge and experience in computer science and engineering. Since joining, Shirel has witnessed tremendous growth in the company. Her expertise in products and tech has also expanded by exploring something new. Read more below.
Tell me about your background and the work you do at DraftKings.
My name is Shirel, and I'm a Computer Science graduate. I started my career as a Firmware Engineer, developed in C language, and after two years, I decided to explore something different. I switched and started a position as a Backend Engineer in Java. I'm happy I made the switch to try something new. I learned many new technologies and DB sources and was exposed to many architectures and data patterns. I only joined DraftKings a year ago, but it feels like I have been here for much longer.
What does your team do?
I am a Backend Engineer on the Gamification team in Tel Aviv, Israel. Our team here consists of three teams: Platform, Campaign, and QA. I am part of the Platform team - the developers on this team are responsible for multiple Java services. We work together to create and scale new features for our gaming platform.
The Gamification team I work on creates Jackpots. Jackpot is similar to a side game based on the main game and gives the player additional chances to win more money or prizes. Our Jackpots integrate into all other products in our product lineups, such as Casino and iGaming products.
How do the engineering teams work together?
As part of my role, I am responsible for leading cross-functional work across our primary team and our global teams at DraftKings. We have a highly collaborative process - we all work together from the first step of planning and design until the feature is completed. We then test it in the pre-prod environment to ensure it is ready for customer use. Even after we roll out a product, we always try to improve systems and products each sprint to provide the optimal user experience. This constant drive to build the best user experience motivates our teams to produce our top work.
What's the most exciting aspect of your role?
I find designing and implementing new business flows to join an existing ecosystem the most intriguing part of my job. For me, being ready at any given time to handle real-time issues in production, investigate, and resolve them with minimum user impact are critical skills on this team. Our work also has a real-time effect on our internal teams, so we do our best to make sure everything is moving smoothly.
What helps you succeed and thrive in your job?
My motivation and passion come from a desire to absorb and learn as much as I possibly can about our products and technology. Being involved in team initiatives, connecting with other teams across the globe, and the ability to be an owner has helped me lead impactful projects. The teamwork and culture on the Tel Aviv team have made such an imprint on my career growth.
If you want to be part of an exciting global team leading the tech industry to new heights, join our engineering team at DraftKings!
Want to take a deep dive into our Engineering world at DraftKings? Learn more on our DraftKings Tech blog.
Check out the latest DraftKings blog posts and meet our global team!
Read our Blog