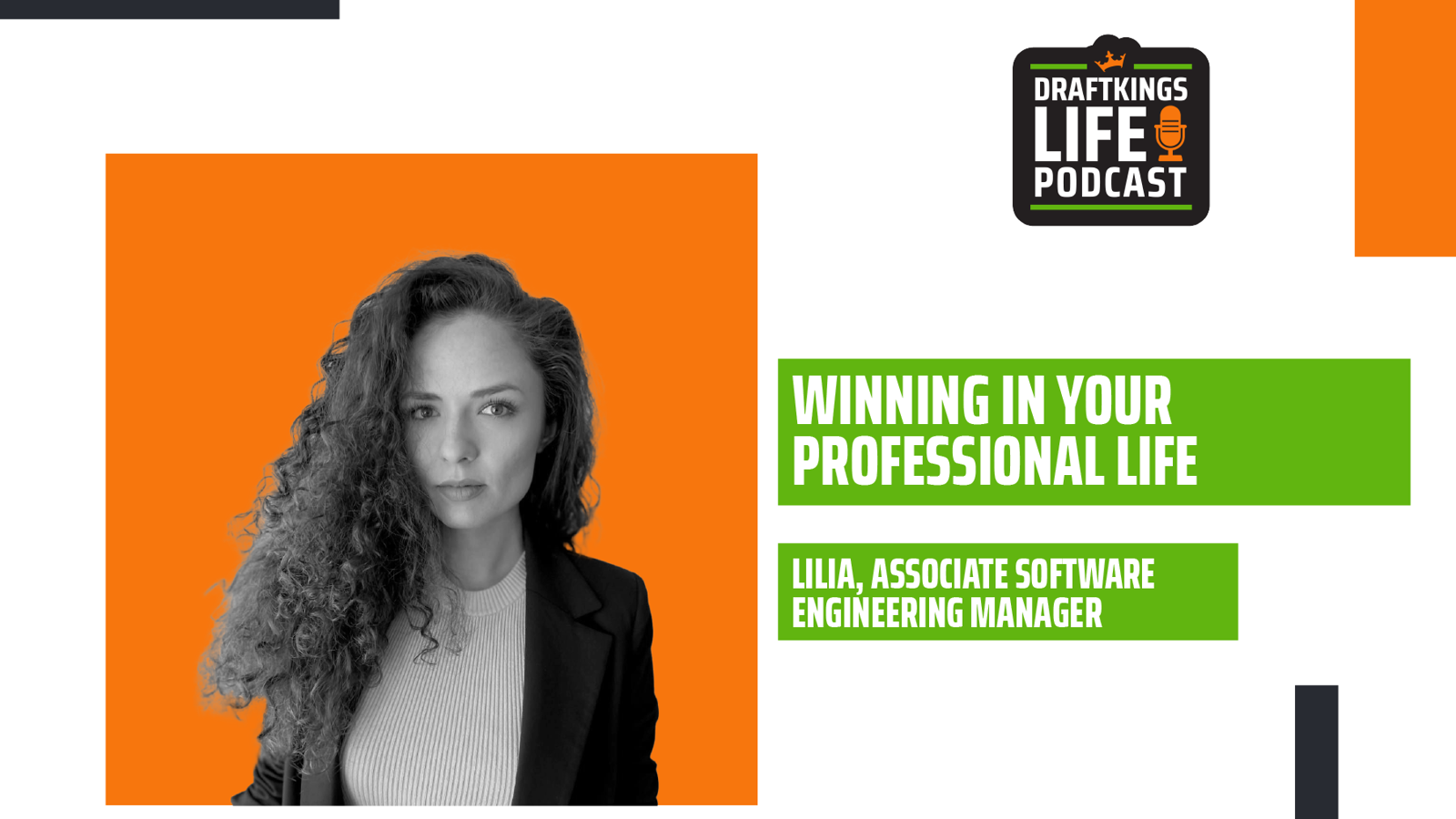 Building Valuable Skills In Engineering
Our Engineering team does more than just writing code or working with the latest tech. Working on our global team requires flexibility, a passion for problem-solving, and an open mind to new ideas. Lilia, an Associate Software Engineering Manager in our Sofia office, has tackled various challenges throughout her tenure at DraftKings. She's seen her skills and learnings expand when she leaves her comfort zone and sees things from a new perspective. Learn more about Lilia and her work at DraftKings.
Tell us about yourself and your role at DraftKings.
Hello, my name is Lilia, and I started my career at DraftKings eight years ago. I joined as a trainee in the Software Engineering Academy program, went from a junior to a full-time software engineer, and eventually became a mentor to new members of the Engineering team. 
After some time, I took on a new challenge and transitioned to a manager role on our Solution and Integration Team. I supported and led parts of a significant initiative in the company: the migration of our consumer apps to our enterprise software platform. After this successful integration, I returned to my Research & Development roots, where I still work today. I'm thrilled to work with such an incredible team.
As a global team, how do you work and collaborate on different projects?
Working on a diverse team with a dynamic work atmosphere has always been a pleasure. DraftKings is full of talented people who show up with different perspectives and are always willing to share their experiences, which is priceless. I've met people from around the world and built long-lasting friendships with many of them. I am at my best when I have different perspectives and ideas to draw from.
What does your day typically look like?
Work-life balance is essential to me. I love starting my day with a workout and a nice cup of coffee - part of my recipe for a fulfilling day. Once I start my work day, I always check every communication channel to ensure my team is up to date and can smoothly progress with their work without roadblocks. 
My team has a backlog of initiatives. I work closely with the Product and Delivery Teams to ensure we deliver the most exciting features to our customers, refine requirements, and resolve any issues or ambiguities. Presenting what my team is doing and showcasing their impact to the business makes me happy. Aside from the day-to-day tasks, I look for ways to help my team, build strong connections, and create an open and collaborative atmosphere for our team.
What excites you the most about your work?
What excites me the most is my team! I'm so lucky to work with a group of talented engineers and even luckier to call them my friends. Watching them achieve their goals is rewarding, knowing that I helped in some way or another. I am constantly learning from our team through our collaborative network. DraftKings allows me to challenge myself and the work I do, which helps me learn valuable new skills.
What helps you thrive at DraftKings?
Taking accountability helps me in everything I do. I'm not afraid to take ownership of my work, stay on top of important projects, and embrace the results. I've been encouraged to speak up, face issues, or share concerns throughout my career. I believe this fosters a culture of trust, shared responsibility, and a sense of community among our teams. It makes us feel empowered to own our success - how amazing is that?
How do you overcome roadblocks?
One of my passions is problem-solving. It's part of my job, so I have quite a bit of experience with roadblocks and unique challenges. What helps me when I find something standing in the way is knowing how, when, and who to ask for help and not feeling afraid to do so. 
Providing help to each other is rooted in the mindset of everyone here at DraftKings. I'm committed to reciprocating the same dedication and support I receive from my teammates. Roadblocks also help us build stronger connections, find new ways to collaborate and tackle problems as a team.
What advice do you have for an engineer interested in joining the DraftKings team?
Engineering is an expansive world to explore – find your passion and take the risk! At DraftKings, possibilities are truly limitless. Our environment is incredibly dynamic and ever-evolving. Challenges are the stepping stones to success, so if the path gets rugged, rest assured you're on the right track to evolving, adapting, and excelling in your career! 
Want to learn more? Check out more about working with us. 
Follow us on Linkedin, Instagram, Twitter, and Facebook!
Check out the latest DraftKings blog posts and meet our global team!
Read our Blog