Join DraftKings
How We Hire
Ready to join our global team? From application to interview prep, we've got you covered throughout the process and we'll guide you through the steps.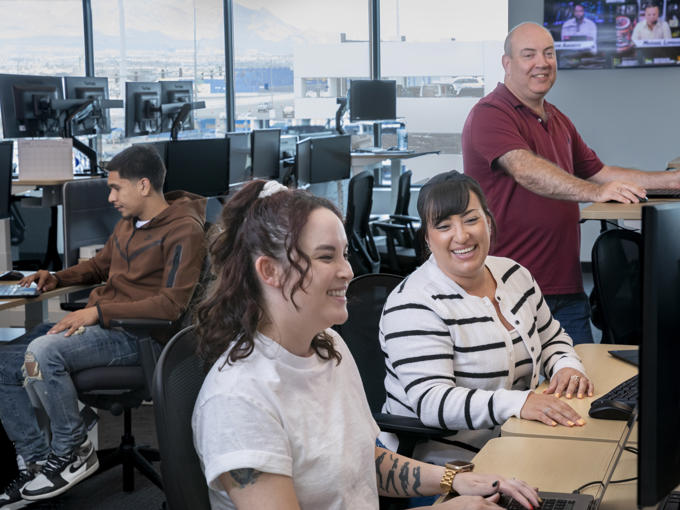 Before You
Apply
Everything you need to know when you apply to DraftKings.
Research the requirements in the job description and tailor your CV accordingly. Highlight your past responsibilities, skills, and professional accomplishments. You may include school or personal projects that demonstrate relevant skills and knowledge.
If remote working is an option for the role you are interested in, it will be outlined in the job description. Chat with your recruiter to learn more about flexible work arrangements at DraftKings.
Once you submit your application, we strive to provide you with an update within 10 business days for most roles. We appreciate your patience while we review your application. 
Interviews at DraftKings typically cover various areas, including your experience, skills, and behaviors. Have examples on hand that illustrate behaviors we value at DraftKings. Show us you have a solid understanding of our company and our products. This may include Daily Fantasy Sports, Sportsbook, iGaming, Marketplace, DK Network, etc.
We would love to see your CV! Including a cover letter in your application is optional. If you write one, tailor it to the role and share details that are not on your CV.
Prepare For The
Interview
What to expect and how to prep for your interview.
We understand that taking time off for interviews can be a challenge, so we'll do our best to keep them to a minimum. The length of the interview process will vary depending on the role. Please ask your recruiter to talk you through the process. Remember, it's an excellent opportunity to check us out and learn more about the role you're interested in!
You will meet with various members of the team you are applying for. Your recruiter will give you more information about your Hiring Manager and interview panel prior to your interview.
Even though some roles will require meeting the Interview Team in person, most interviews are conducted virtually. We conduct virtual interviews and use tools like Hackerank for technical skills assessment.
The length of the interviews depends on the role. Your recruiter can give you more information about this.
To provide more insight into your skills and capabilities, some interviews may require you to complete an online or in-person assessment. Please ask your recruiter for more details.
After The
Interview
Congratulations on getting through your interview! Let's talk next steps.
We'll do our best to get back to you within a few days after your interview, although this can sometimes take a little longer if multiple candidates are interviewing for the same role. Feel free to contact your recruiter and follow up on any questions you may have.
Benefits may vary in different locations. Therefore your recruiter will explain all the details of your offer. In the meantime, you can read about our global perks and benefits here.
Upon joining DraftKings, you will be supported to achieve your goals - whether it's being successful in your role, career growth, or exploring new opportunities. You will get the tools you need to push your boundaries and build a world-class experience for our customers. Learn more about DraftKings culture here.
The onboarding experience can vary since it is tailored to your future position and location. You will always receive an individual introduction plan with an overview of all essential information as you start your work.
If you didn't get the job this time, we encourage you to apply again. We're always hiring, and many candidates are reconsidered for other opportunities at DraftKings. We welcome you to join our Talent Community and stay in touch with our recruiters for future roles.