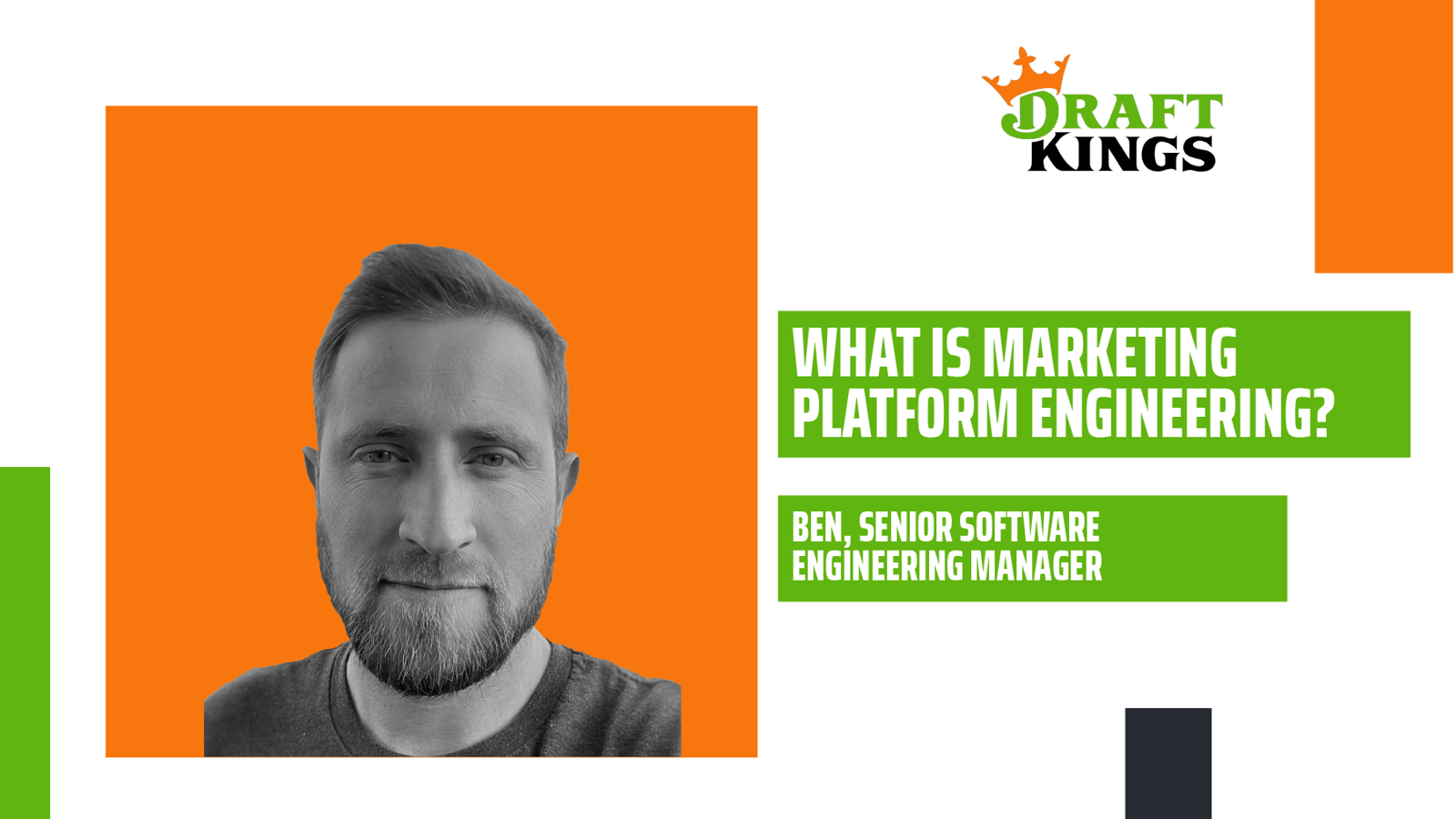 What Is Marketing Platform Engineering?
Today, we introduce you to Ben, Senior Software Engineering Manager, on the Marketing platform. Ben started his DraftKings journey in the US before moving to our gamification team in Tel Aviv. Read his story below.
Tell me a little bit about yourself and when you joined DraftKings. 
My name is Ben. I'm married and have two kids, we live in Raanana, Israel. I served in the army for six and a half years and retired as a major. I've been with DraftKings for nearly four years, first starting as an individual contributor building the Sportsbook pools and our social product. 
What drew you to the industry and DraftKings?
I've always loved computers. When I was young, my twin brother and I used to build our computers by ourselves. In high school, I started programming and building some websites for fun. My passion for technology and eagerness for growth drew me to DraftKings. We use top-of-the-line technology to solve complex problems. We are constantly improving and adopting new tech.
You work on the Marketing platform - could you elaborate on what that is?
The Marketing platform is a department that provides internal and external marketing capabilities such as promotions, communications, ads and attribution, user insights, organic and paid search capabilities, landing pages, and more. All these systems are built to support enormous traffic at scale. We processed over 10 million events per minute during the previous Super Bowl.
What does a typical day look like for you? 
Aside from our daily meetings and check-ins, I catch up with team members to see what they're working on and help them with any roadblocks they might have. We work closely together so we can all contribute. Most of our discussions revolve around our products and how we can improve them, putting our customers at the center of what we do. We always want to look forward and find ways to build something better and more innovative - exceeding our customers' expectations.
What's most exciting about your role? 
I manage the Gamification group right now. Gamification is made up of a suite of products that are proven to increase customer engagement. Much of my work involves aligning the processes and technological stack with DraftKings' standard practices, which would help us better integrate with other products within the company. Since I started my DraftKings career while living in the US, it has helped me better understand all the processes and technologies. My time there provides a holistic view of where we are going and what we are trying to accomplish.
What helps you succeed and thrive in your job? 
The teams and products I lead - I love the people here. They are genuinely thoughtful and fun to work with. The product we work on is exciting and keeps us thinking. We always solve complicated problems by finding creative solutions. My managers have also set a great example and supported my growth and development. I feel great about my future at DraftKings.
When a roadblock pops up, how do you solve it? 
It's a part of our day-to-day work. DraftKings is a public company, and we have strict regulations to follow. Those issues often will require more attention. At this point, we are pretty agile and know how to quickly tackle any roadblock that pops our way. The most important thing is to learn from these issues and pass the knowledge on so it won't happen again. At the end of the day, we are always aiming to improve our workflows and prevent future roadblocks from arising.
What's your advice for someone considering joining the Marketing platform or becoming an engineer? 
For folks looking to join the Marketing platform, my advice is to go for it. I've never seen a department that leverages so many technologies for operations. We have a wonderful team running all of the marketing engineering, making our suite of products super diverse for our customers. That work directly impacts our technology stack, and there are many opportunities to learn. If solving complex problems excites you, then engineering might be right for you. If you love what you do, it'll feel less like work.
If you're ready to make your impact at a leading global tech company, join us today and discover what makes DraftKings an amazing place to learn and grow.
Want to take a deep dive into our Engineering world at DraftKings? Learn more on our DraftKings Tech blog.
Check out the latest DraftKings blog posts and meet our global team!
Read our Blog