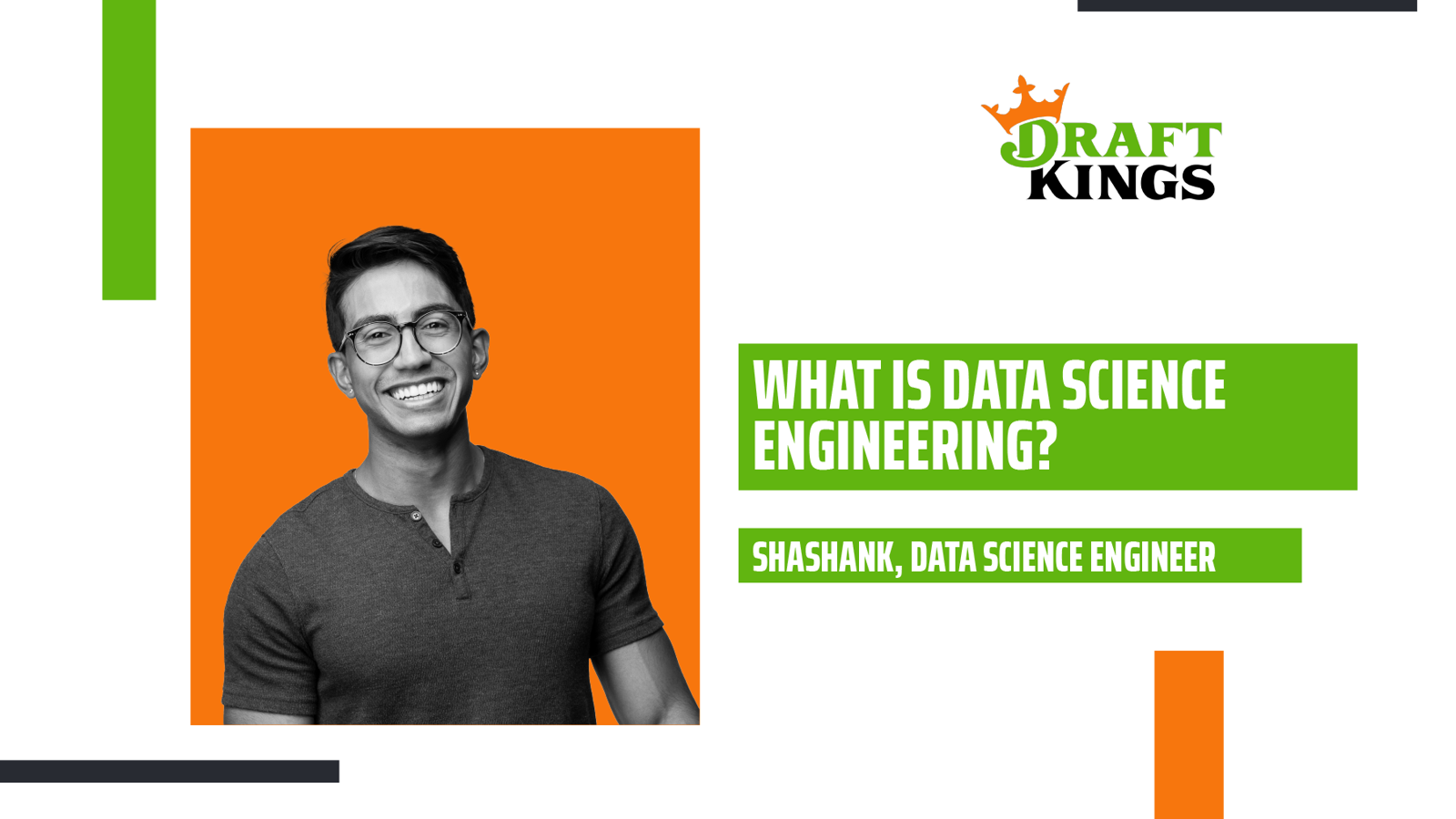 What Is Data Science Engineering?
At DraftKings, we are always looking for new ways to challenge and change the tech industry, but we are so much more than our products. Our company is a mosaic of curious individuals who bring their unique skills and personalities to the table. Today, we feature Shashank, an Engineer on the Data Science team. Shashank moved to Boston to work at DraftKings, blending his love of sports and tech in his job.
Tell me a little bit about yourself and when you joined DraftKings. What is your role?
My name is Shashank, and I'm an Engineer on the Data Science team. I joined DraftKings roughly a year and a half ago, in July 2020. I was a Computer Science major at RPI. While I was there, I was a member of the rowing team and was in a fraternity. My other interests include sports, fitness, TV shows, and food. I'm a huge Yankees fan, and I love The Office - I've watched it at least 15 times.
How did you get into this space? What drew you to DK?
I kind of just found myself in it, to be honest. While in college, I took courses that were heavier on the data science and theoretical side. This path led to internships where I primarily focused on handling data. I was also surrounded by many peers interested in this field, so their influence rubbed off on me.
DraftKings initially attracted my attention because I am a huge sports fan, so I was already aware of the company and what they do. Once I joined, I was surprised that DraftKings was more of a tech company than I previously thought, and that cross between tech and sports had me hooked.
What exactly is Data Science? How does it tie into the DraftKings verticals?
Simply put, Data Science is a field where you analyze data to draw meaningful conclusions. Our responsibilities include cleaning data, processing it, identifying patterns, and gaining insights. Some of the challenges we face are processing large amounts of data efficiently, filling in the missing gaps, determining the best model for this information, and communicating our results.
Data Science is present across all our verticals including different areas across the business such as fraud and responsible gaming. 
What's the most exciting part about your job that others may not know about?
I get to handle sports data! I love seeing the sports terminology and statistics I followed throughout my childhood in my work. I'm grateful for the opportunity to mix my love of sports with my job.
I also love using Python - it's my favorite language, and it's a bit of an outlier amongst the rest of DraftKings. So, getting the chance to use it consistently definitely allows me to focus more on solving problems.
Which skills and tools help you succeed in your job?
The soft skills are more crucial to my success than my technical ones. The skills that best contribute to my success are:
Programming: Obvious, I know - our team codes primarily in Python, which, luckily, I knew well beforehand. But I'm constantly learning new things, and the language is always evolving. SQL is extremely useful since you can't be a Data Scientist if you can't access your data properly.
Communication: This skill is more important than ever due to the nature of WFH culture. I struggled with this early on, but communicating with team members effectively can reduce frustrations and speed up the development process. I've learned that no question is "too stupid," and I'd rather send a Slack message and get an answer quickly than pull my hair out.
Staying focused: It can be hard to stay focused when working from home. To stay focused, I take a break and step away from my computer - I find that it helps my concentration when I am working. I try to maintain good habits, like sleeping well and going outside for mental wellness.
How do you stay connected with your team during these times?
I love that DraftKings has a culture of having our cameras on to see everyone's faces on Zoom. It leads to stronger connections with teammates. Slack is another wonderful way to chat with someone quickly! Additionally, I go into the office once a week and see some of my coworkers in person. We also try to meet outside of work when it is safe to do so.
What advice would you give someone looking for a career in Data Science?
Do not get intimidated since it is easy to feel that way. The Data Science field is so vast and theoretical that there will always be things you don't understand. I was guilty of feeling Impostor Syndrome early on. The best way to conquer those feelings is to feel comfortable with what you don't know and take gradual steps to expand your knowledge. Just being aware of gaps in your understanding is progress!
Besides that, focusing on the technical skills of math, programming, and gaining experience are the building blocks of a career in Data Science.

If you love solving problems and building products that will impact the real world, we want you to join the DraftKings Engineering team to work with amazing individuals like Shashank!
Want to take a deep dive into our Engineering world at DraftKings? Learn more on our DraftKings Tech blog.
Check out the latest DraftKings blog posts and meet our global team!
Read our Blog