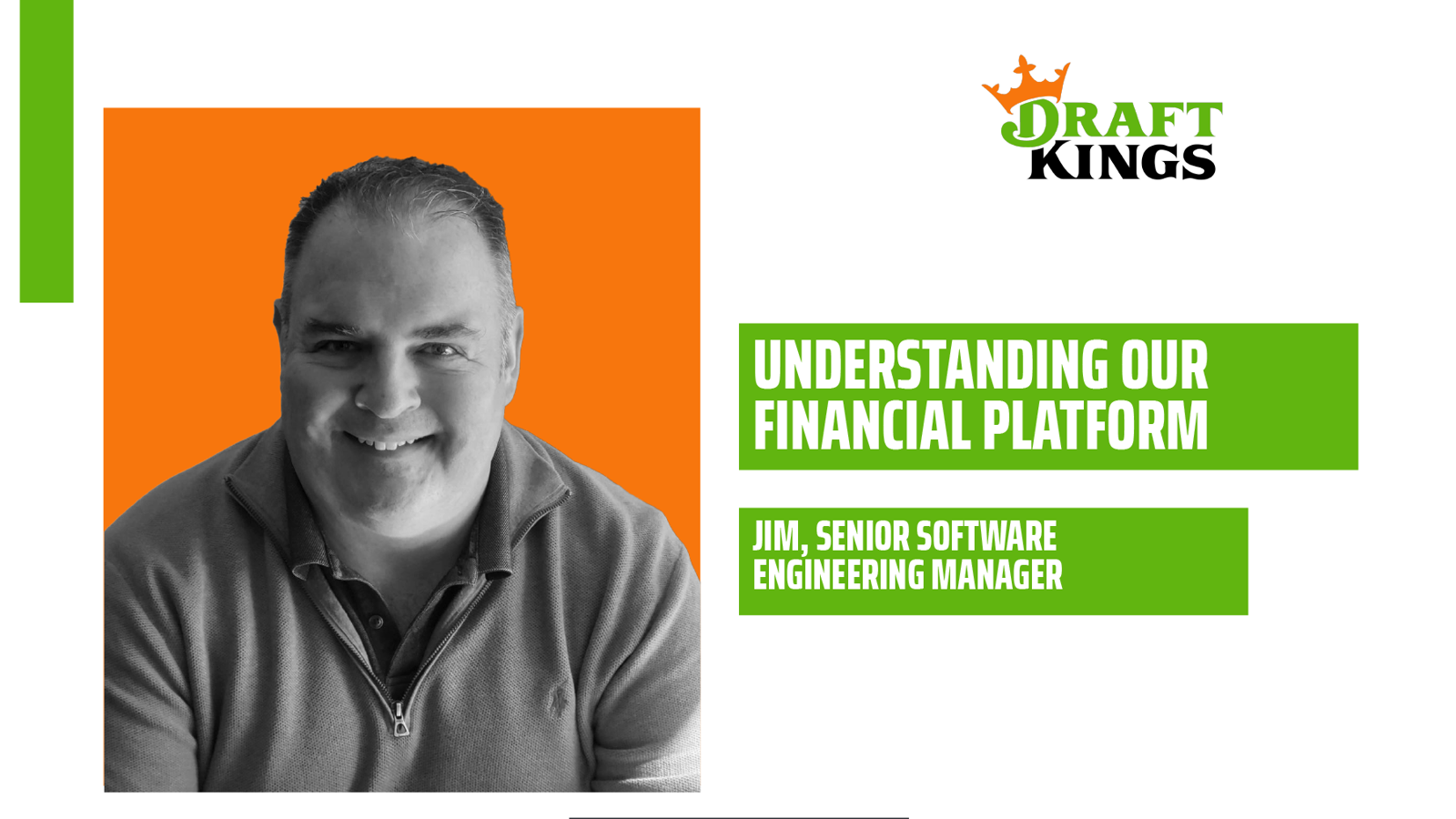 Understanding The Financial Platform At DraftKings
It's no secret that we achieve greater results as a team. Our Financial Platform team is the core of DraftKings' operation, interacting with almost every team in our organization. Jim (he/his) is a Senior Software Engineering Manager on our Payment Systems Financial Platform team out of Boston. Learn more about Jim and his team's work below.
Tell me about yourself, your role, and when you joined DraftKings. 
I joined DraftKings in October 2021 as the Senior Software Engineering Manager of the Payment Systems team on the Financial Platform (B2C Engineering). I've been working in Software Engineering for 30 years. My career started as a tech support rep for a small startup in Massachusetts in 1992. I have since held positions as Product Manager, Front End/UI Developer, Full Stack Engineer, and various engineering manager roles with several companies, primarily in the financial space. I took a small detour for about five years in the late 90s as the Tour Manager of a rock band called Angry Salad. It's been quite the journey.
Could you explain the financial platform and where it fits into the DraftKings infrastructure?
Financial Platform supports all financial transactions for all DraftKings consumer verticals. So any time a player moves money into or out of their DraftKings wallet, enters a contest, wins or loses a bet on a game, buys an NFT, etc., those transactions are handled and tracked by the Financial Platform. We work closely with the Account Platform (Identity) and Marketing Platform teams to support user activity across all consumer verticals. My Payment Systems team concentrates on deposits into users' wallets, providing users with options for transferring funds into their DraftKings accounts.
As the core of the company, what are the unique challenges you're trying to solve on your team?
Since all of DraftKings' consumer products depend on our systems to process money from players, we need to ensure all of our work is rock solid. If any of our systems have an outage, it becomes a critical issue. We are also tightly involved with every new state launch and product launch, so our priorities can change rapidly and unexpectedly based on outside forces. While constantly trying to improve the efficiency of our systems, we also need to make sure that we maintain compliance with each state's regulations.
What helps you succeed and thrive in your job? 
A good sense of humor, years of experience in the software industry, and a genuine desire to help more junior engineers succeed in their careers.
What are the growth opportunities at DraftKings? What does internal mobility look like?
In my short time here, I've had the opportunity to help several team members grow into new roles. So we will work hard to make sure that employees are set up and recognized for success and work with the team that best fits their skill set.
Any advice for someone who's looking to join the engineering team? 
We're growing at light speed, and there are tons of different positions open, so there are currently opportunities for every level and type of engineer. Don't be afraid to throw your hat into the ring – if you have good engineering skills and can show us that you are eager to learn and thrive in a fast-paced environment, we can find a position that suits you.
What makes DraftKings a special place to work?
DraftKings is the largest company I've ever worked for, but the work atmosphere and camaraderie among team members feel more like that first startup I joined than any other large company I've worked for. DraftKings is uniquely able to maintain high standards for excellence in what we produce while still being a fun place to work.
If you're interested in joining our Engineering team to push yourself to grow in the tech space, look at our open roles and join today.
Want to take a deep dive into our Engineering world at DraftKings? Learn more on our DraftKings Tech blog.
Check out the latest DraftKings blog posts and meet our global team!
Read our Blog