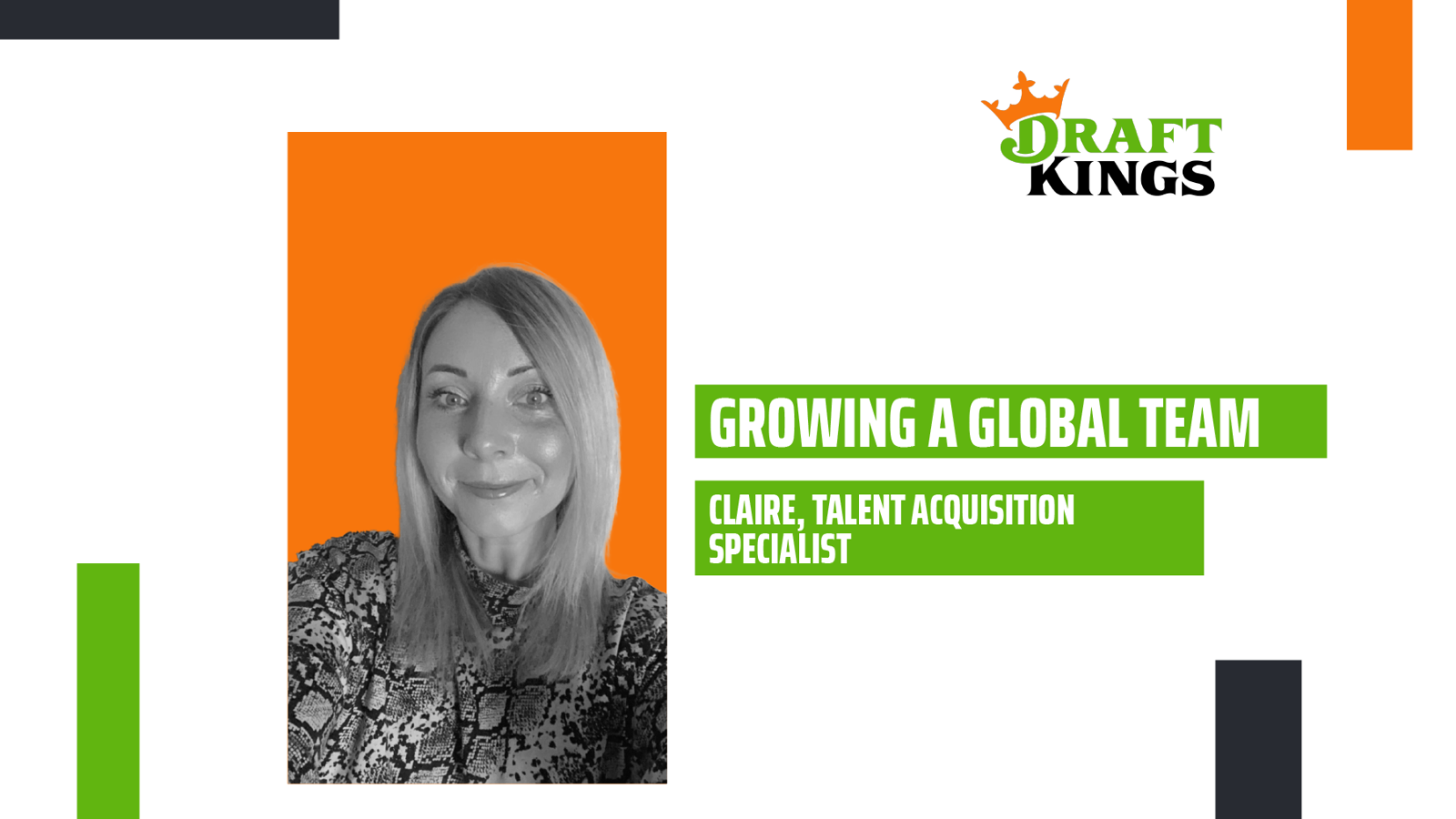 Growing And Hiring A Global Team
Meet Claire, based out of our Dublin office. She is a Talent Acquisition Specialist and joined DraftKings just last year. Since her short time here, she has seen the company rapidly grow in the tech space. Hear more from Claire herself below.
Hello there, I'm Claire. I work on the DraftKings Talent Acquisition (TA) team in Dublin, Ireland. I am relatively new to DraftKings, joining the company in July 2021. I'm so excited to share more about my work, the future of DraftKings, and what helps me bring my full self to work every day. 
Before joining DraftKings, I hadn't heard of the company but somehow discovered them through a happy accident while working on a project. I became curious and did some research, and saw the growth trajectory. I also felt the company values aligned with my own and set the wheels in motion. After meeting the team, it was a no-brainer for me. I loved the energy, the enthusiasm, and the opportunity to grow my career in a company that is constantly moving forward.
I hire for the Site Reliability Engineering (SRE)/DevOps and Data Science teams across the globe, which means my schedule can fill up quickly, but I find this thrilling. The products and tech stack that the engineers work on are simply amazing - this is what makes hiring for DraftKings so exhilarating. Since we're expanding into different markets with new products, the engineers who join are equally excited. Aside from using SQL and Python, the engineers also work with Chef, Terraform, and Docker to build our products.
Engineers who join see the impact they have in real-time. For example, the SRE team is responsible for all the cloud and on-prem infrastructure for our DFS, Sportsbook, and Casino products. They work with multiple teams across the business, including Engineering, Security, and Architecture, so a collaborative mindset is paramount. The teams play a collective role in some of the most important events during the year, such as NFL season kick-off and the Super Bowl, by monitoring the critical infrastructure and ensuring a smooth user experience. 
As a global team, things move quickly here, and there is never a dull day. Our Talent Acquisition team has also seen tremendous growth, thanks to the continuation of collaborative work and the knowledge of our team. Each TA team has extensive insight into their local market and is able to hire the best talent.
DraftKings also offers one of the most competitive packages on the market. Along with our amazing benefits, career progression is one of the top reasons candidates choose DraftKings. Career development is where DraftKings excels and sets us apart from other companies. Each team member has a clear pathway to advancing in their role.
There is also a strong partnership between the hiring managers and our team. This cross-functionality is invaluable as we continue to scale our company's technology landscape and hiring. Flexibility and adaptability are two factors that have helped us to continue with our growth goals into 2022. As technology continues to evolve, the ability to adapt and move forward is something we pride ourselves in doing best.
We always want to be one step ahead of the game, so standing still will never be an option. While the growth can feel overwhelming at times, I'm incredibly motivated when surrounded by such compassionate teammates who will go out of their way to help whenever needed.
If you're excited about the growth and possibilities at DraftKings, join our team today!
Check out the latest DraftKings blog posts and meet our global team!
Read our Blog