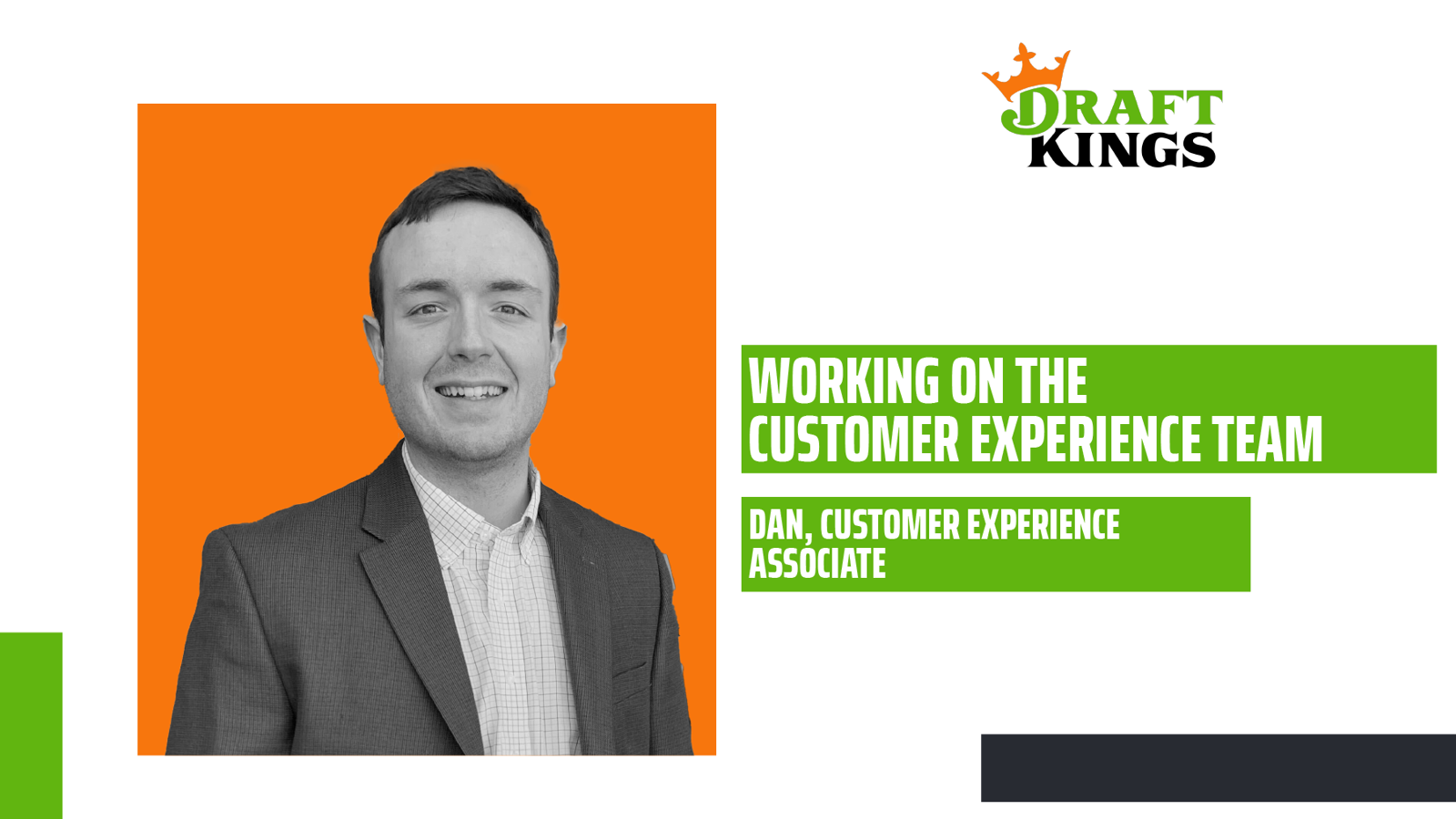 Working On Our Customer Experience Team
At DraftKings, our goal is to always put our customers first - our Customer Experience team is critical in driving this mission forward. Daniel (he/him), a Customer Experience Associate out of our Boston headquarters, discusses his decision to join DraftKings and the importance of empathy in his line of work.
Tell me about yourself and your role. Where are you located, and when did you join DraftKings?
My name is Daniel, and I'm a Sportsbook Customer Experience (CX) Associate out of our Boston office. I grew up in Haverhill, MA, north of Boston, and after graduating from Bryant University in May of 2020, I joined the CX team in July 2020. Every day, I, along with our entire CX team, help DraftKings customers with any questions, concerns, or inquiries they have about using the DraftKings platform.
What informed your decision to join the CX team?
After I graduated, my college career center encouraged me to apply to DraftKings. They knew my love of sports, studies in communication, and experiences would be a good fit at an expanding company such as DraftKings. The interviews that followed helped solidify that idea for me. I felt it was a great opportunity when DraftKings offered me the CX position. After almost two years, I'm thankful to be a part of the DraftKings family.
What was the training and onboarding like?
My training consisted of learning the everyday tools to assist our customers, from checking if deposits were successful to why a customer may be having issues. We spent a lot of time learning how to make sure everything ran smoothly on our end because everything I learned in that onboarding, I apply those skills daily. I joined the Daily Fantasy Sports (DFS) team when I first started at DraftKings; part of my training involved learning contest rules for our various DFS contests offered on the site. For example, we learned how contest rules and regulations could vary by state.
Later on, I moved from DFS to Sportsbook, where I did similar work. My training during that transition was effectively the same for our Sportsbook platform. The help and thoughtfulness we received from Managers, Leads, and other CX Associates, remained consistent throughout my training. Every person who has trained us was always incredibly helpful, never hesitated to answer questions, and always ready to assist.
In your opinion, what qualities or traits make a great CX Associate?
Above all else, empathy is the most valuable quality a CX Associate should have. Our customers reach out to our team for assistance, and while we're always happy to help and solve any given issue, there are certainly times when customers are understandably frustrated by a problem. I think that's when it's essential to be able to put yourself in someone else's shoes - to reflect on an issue and see how or why something could be upsetting, is invaluable when it comes to customers and only helps to build their trust with our team.
How does CX impact DraftKings' business?
DraftKings' customers are at the core of everything we do. Online gaming should be fun and entertaining while ensuring the integrities of responsible gaming. If our customers feel this is not their experience, it starts with CX, since we're their first point of contact. If a customer believes something can be changed or added, or the customer experience may not be up to par, the CX team wants to hear that feedback. By being aware of the issues, we can report any suggestions to the internal teams, where changes can be made. The platform should be customer-focused and user-friendly, so it's often CX's job to take what our customers say and make sure the company hears them.
What's your favorite thing about working for DraftKings?
Coming out of college, I felt incredibly grateful to land a job with an enthusiastic company that practices what they preach about being a community. Every day, I read what other teammates say in our communication channels, which may include pet or bread photos. I've enjoyed sharing pictures of something I've baked in company cooking competitions or conversing about our favorite sports memories since there's no scarcity of fandom here! In the WFH era, you can sometimes feel disconnected from people you work with, but I've always appreciated the effort everyone makes at DraftKings to stay connected.
Does one need to be well-versed in sports to work at DraftKings?
It certainly does not hurt to be well-versed in sports when working here, especially if you're looking to hold some bragging rights over coworkers who may be a fan of your favorite team's biggest rival. Being well-versed in sports can help one understand the context of an issue or provide empathy when something goes awry, especially with questions related to CX. However, it's not a dealbreaker if you're not a sports fan. There are so many people here who are willing to help with anything, so if you're ever in a situation where sports knowledge may affect a given task, someone is always there to lend a helping hand. The greatest thing about working at DraftKings is that help is always available. You would be hard-pressed to find yourself in an unsolvable situation here!
We are a growing global company, and we work with the best people. Join our award-winning Customer Experience team and be part of the growing DraftKings community!
Check out the latest DraftKings blog posts and meet our global team!
Read our Blog