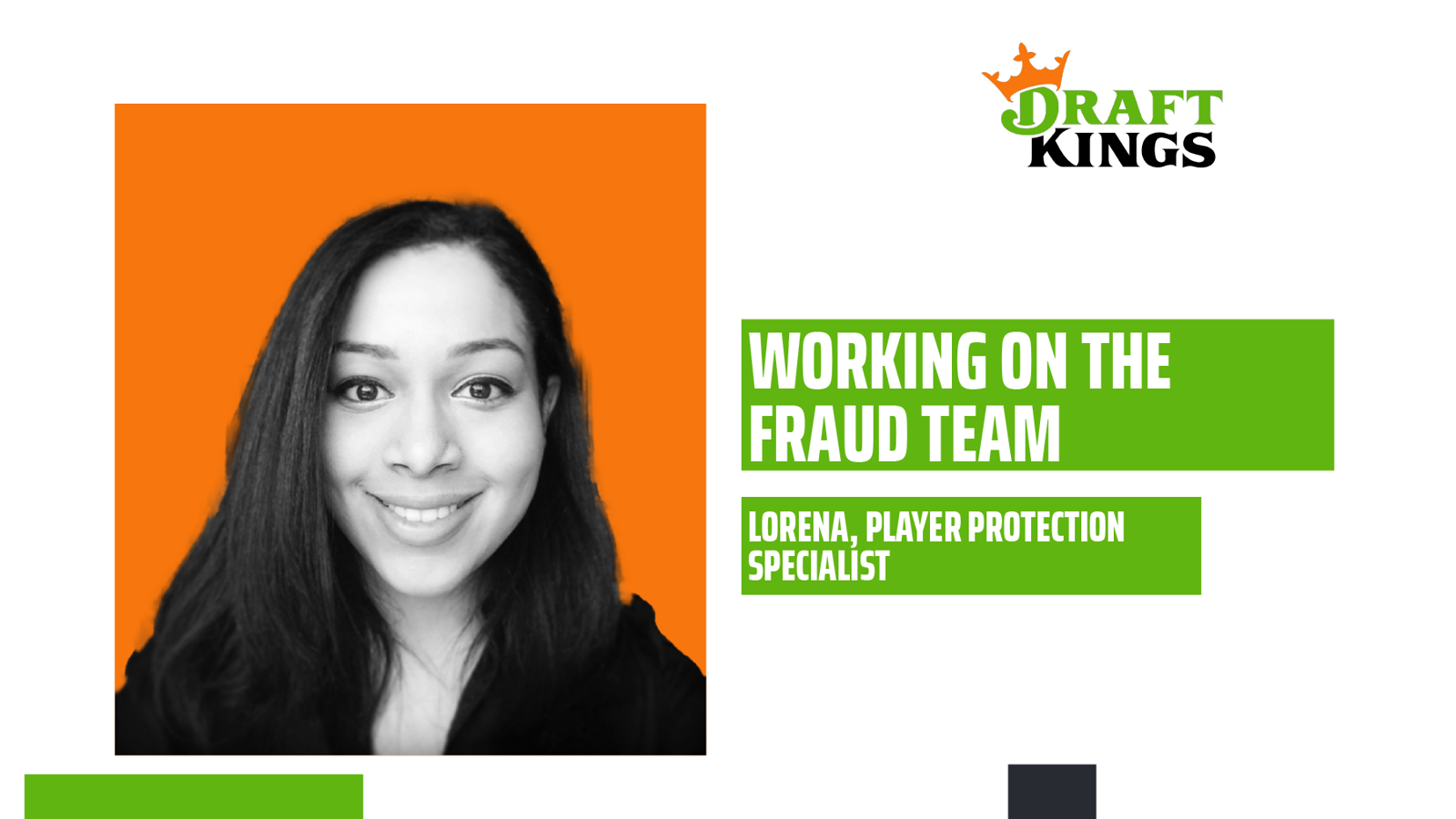 Day In The Life On The Fraud Team
Meet Lorena from our Fraud team - she gives us a breakdown of her responsibilities in her role as a Player Protection Specialist, her daily routine, and how she unwinds after work.
Tell me about your role. Where are you located?
My role at DraftKings is a Player Protection Specialist on the Fraud Team, based out of our Hoboken office. I started my journey here at DraftKings in mid-March, and it's been a fantastic experience so far. I work with VIP, Customer Experience, and other members of the Fraud team to ensure all users engage responsibly on site. The Fraud Team's primary goal is to provide a pleasant and healthy environment for all players to enjoy. We are here to protect our players and educate our staff on the dangers of problem gambling.
First thing you do when you log into work?
The first thing I do is assess the number of cases our team is working on for the day and if any particular case needs immediate attention. We take player protection seriously and act upon them promptly to confirm the player is safe. Once this is complete, I assess each case by doing my due diligence and investigating all aspects of a player's activity. A player's need for assistance can sometimes be unclear and requires us to put our detective hats on.
What does the rest of your day look like?
I continue to handle cases that appear in our queue and answer any Responsible Gaming-related questions. It's imperative if any of our staff ever feels unsure about certain players that they reach out to us for a second opinion. Additionally, finding new ways we can improve our processes to make the player experience more fluid. Understandably, it can be challenging to navigate the sensitive subject around problem gambling, but we're here to remove that stigma.
What's your favorite thing about your job?
My favorite thing about my job is showing our players that we care about their well-being. It's important we make them feel seen on a human level rather than just another customer. My greatest joy is when a player messages thanking us for stepping in for their best interest. We offer an outlet for players to be honest and open about their gambling habits is vital. At the end of the day, if we're able to make a small difference, then it's a job well done!
How do you unwind after work?
The primary way I unwind after work is by logging on and playing video games with some friends (RPGs are my favorite) or working on my art projects. I'm by no means an artist, but it helps me relax and forget about the outside world for a while.
We want to thank Lorena for sharing her story with us. We certainly learned a lot about her role as a Player Protection Specialist. If you're considering a position on the Fraud team, please check our open roles. The best part about working at DraftKings is the opportunity to work alongside great people like Lorena.
Check out the latest DraftKings blog posts and meet our global team!
Read our Blog