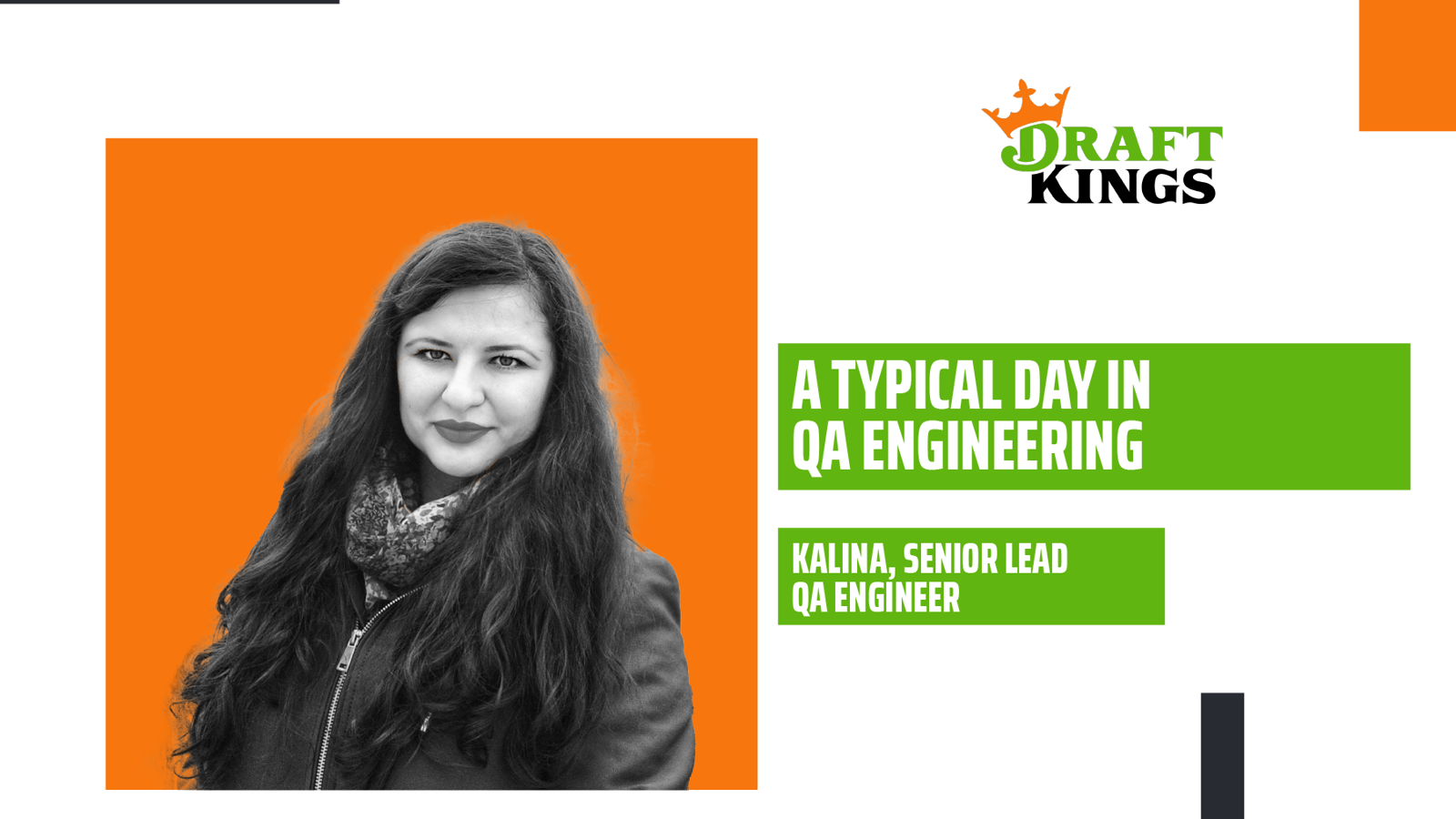 A Typical Day In QA Engineering
Meet Kalina (she/her) – Senior Lead QA Engineer based in Sofia, Bulgaria. Through her seven years at the company, Kalina has lots to share from her unique perspective as an engineer who is unafraid of challenges and the opportunities they bring. Read her story below.
Tell me a little bit about yourself and when you joined DraftKings. 
I'm Kalina, Senior Lead QA Engineer, and I have been overseeing Quality Assurance for more than seven years here. I love my job and carry the soul of QA - I like knowing that my work provides better products, processes, and communication, which leads to happier customers. It's rewarding to know that my work has a positive impact.
What do you and your team work on?
My team and I work mainly in the Release Operations department for B2B clients, but we also work on B2C initiatives. We offer a variety of solutions and approaches to meet all the needs of our customers.
We build sites with all the specifics of the package of functionalities, regulations, design, etc. We also work to distribute new versions, features, regulatory requirements, and product optimizations to our customers, aiming for high quality and reducing risk and issues for end-users.
What does a typical day look like for you? 
Oh, I love this question. Every day is different and usually unpredictable. I have discussions with other QAs about our approaches to various tasks and initiatives, prepare test plans, and communicate our decisions, questions, and concerns with all stakeholders.
Part of my daily work is researching new functionalities and collaborating with others to describe all acceptance criteria and all steps for testing. I participate in cross-unit initiatives from a QA perspective. I use my knowledge to guide product development along. I wear many hats, so the variety of my tasks makes each day unique and challenges me to improve in many ways.
What is your favorite project that you've worked on in the last six years?
That's an easy one. A couple of years ago, my colleagues and I organized two QA Labs, in 2018 and 2019, which we named "QA Academies" at the time. This program allowed us to connect with more QA Engineers interested in DraftKings; we wanted to introduce them to our industry and products.
I had a vital role during each step of the process – from interviewing and designing the program's scope to presenting and evaluating candidate performance, etc. It was a different challenge to take on because we'd never done anything like this before. Throughout this process, I grew much closer to my colleagues, many of whom I now consider good friends.
In your seven years, how have you grown as an engineer at DraftKings?
I started as a Junior QA and grew up quickly in this fast-paced industry and company. Even then, I was craving new knowledge and skills to learn every day. Eventually, I started training the new entrants in the department and working on improving our day-to-day work processes and the quality standard we aim for. Through all this, I improved and polished my leadership skills.
I am very grateful to my managers for the opportunity to share my ideas and turn them into reality, a significant privilege I've had throughout my career here. Teamwork, communication skills, and a desire to share knowledge have led me to the position of Senior Lead QA Engineer today. This journey would not have been possible without my team and managers pushing me to be better every day.
What are you excited about for the future of DraftKings?
I am excited to be part of a fast-growing industry and company. It's thrilling and paves a path for professional growth and development. Knowing our business's ambitious goals, I see a promising future, and I look forward to DraftKings' next steps!
We are excited to invite you on board! Discover the exciting engineering opportunities at DraftKings now!
Want to take a deep dive into our Engineering world at DraftKings? Learn more on our DraftKings Tech blog.
Check out the latest DraftKings blog posts and meet our global team!
Read our Blog