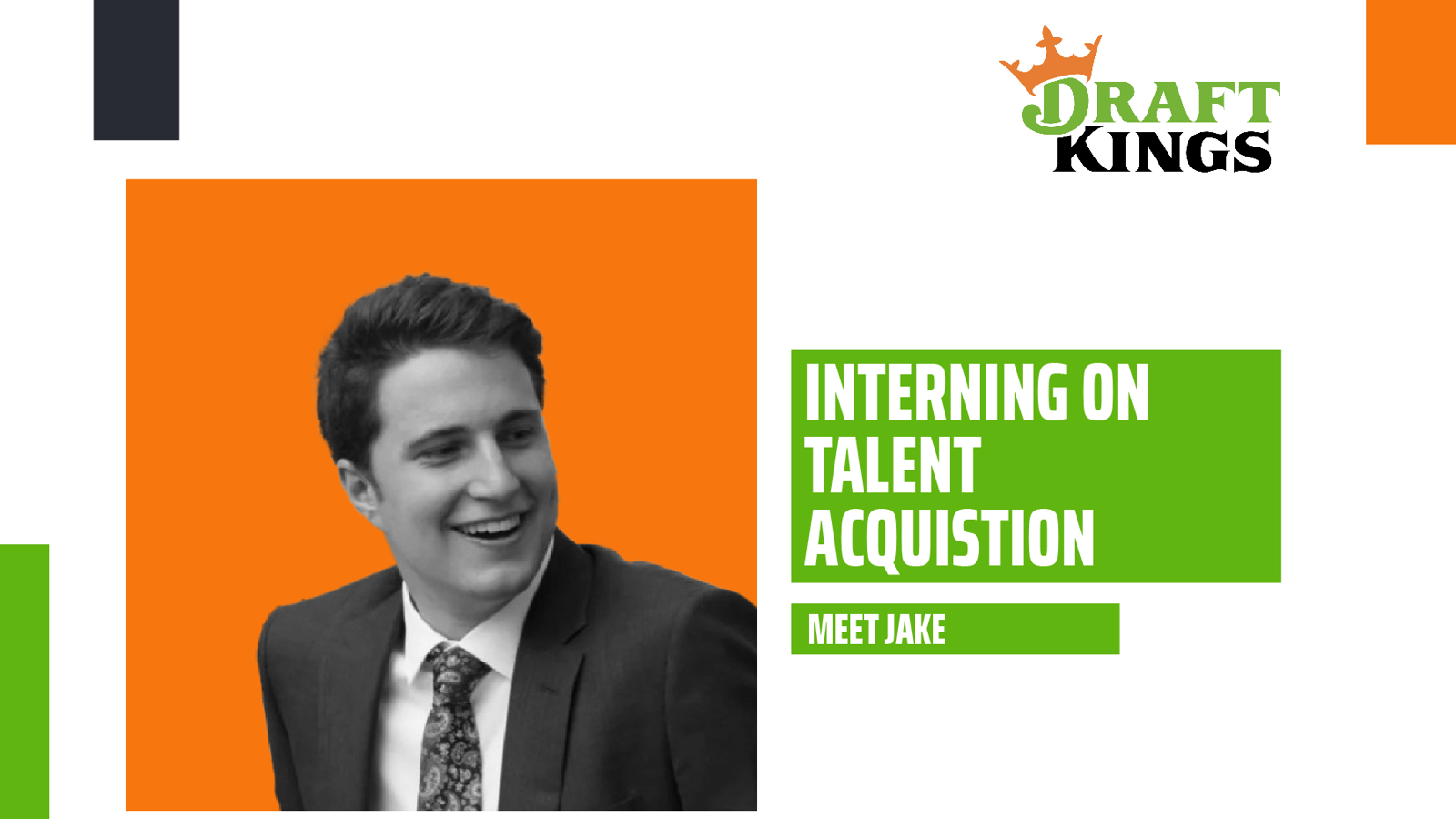 Interning On The Talent Acquisition Team
In Summer 2021, Jake joined our internship program on the Campus Recruiting team. In his short time here, he helped our Talent Acquisition finesse its recruiting strategy. Jake talks about his DraftKings experience below.
Which department did you join at DraftKings? What were your responsibilities in your role?
This summer, I was a Talent Acquisition Intern working with the Campus Recruiting team. My responsibilities mainly consisted of planning out the Campus team fall recruitment and administration for the summer internship program. For the former, I helped the team review the list of schools for fall campus recruitment by gathering data from our previous campus hiring, conducting research on potential schools for this upcoming year, and assembling a list of DraftKings employees who are alumni of the schools. For the latter, I helped plan our group intern events throughout the summer and connected interns with one another for weekly coffee chats.
What influenced your decision to choose your internship with us?
I chose to intern at DraftKings because I am a firm believer in the company product and space in the sports industry. I have been a user of DraftKings DFS and Sportsbook and see the company as an emerging leader in sports tech, gaming, and media. Everything I learned about the company culture seemed to fit what I was looking for in a workplace, and every person I talked to in my recruiting process was incredibly nice and welcoming. Feeling like I could mesh well with the people I would be working with and believing in the company's mission made this internship a perfect fit.
What's your proudest accomplishment during your time here?
My proudest accomplishment this summer has been helping to plan and execute the intern events. We had a virtual cooking class and trivia event alongside professional development training and seminars from DraftKings leadership. It was important to me that we tried to form a sense of community among the interns despite being remote, so I was proud to play a part in doing the best we can to make that happen.
What surprised you the most about DraftKings since working here?
I've been surprised and impressed by the adaptability of everyone here. I knew that the company has been growing like crazy, but many of the people I worked with had started in the last few months or started remote. Additionally, the company introduced a new vertical during my internship. For teams to deal with constant change, especially in a remote environment, requires everyone to be on board and flexible.
Best advice you received? Advice you would give new interns?
The best advice I have received from my manager that I would give to new interns is to learn from other people at the company. DraftKings is full of driven people doing exciting work, and observing this from team meetings or leadership seminars has made this internship an enriching experience. I have also been lucky enough to attend many of the interns' end-of-summer showcases. It has been so cool to see the work done by interns in all wings of the company, from the creative team to software engineers to business development and beyond.
If you've always wondered what it's like to be part of a fast-growing tech company, you can learn more about the DraftKings internship here.
Check out the latest DraftKings blog posts and meet our global team!
Read our Blog