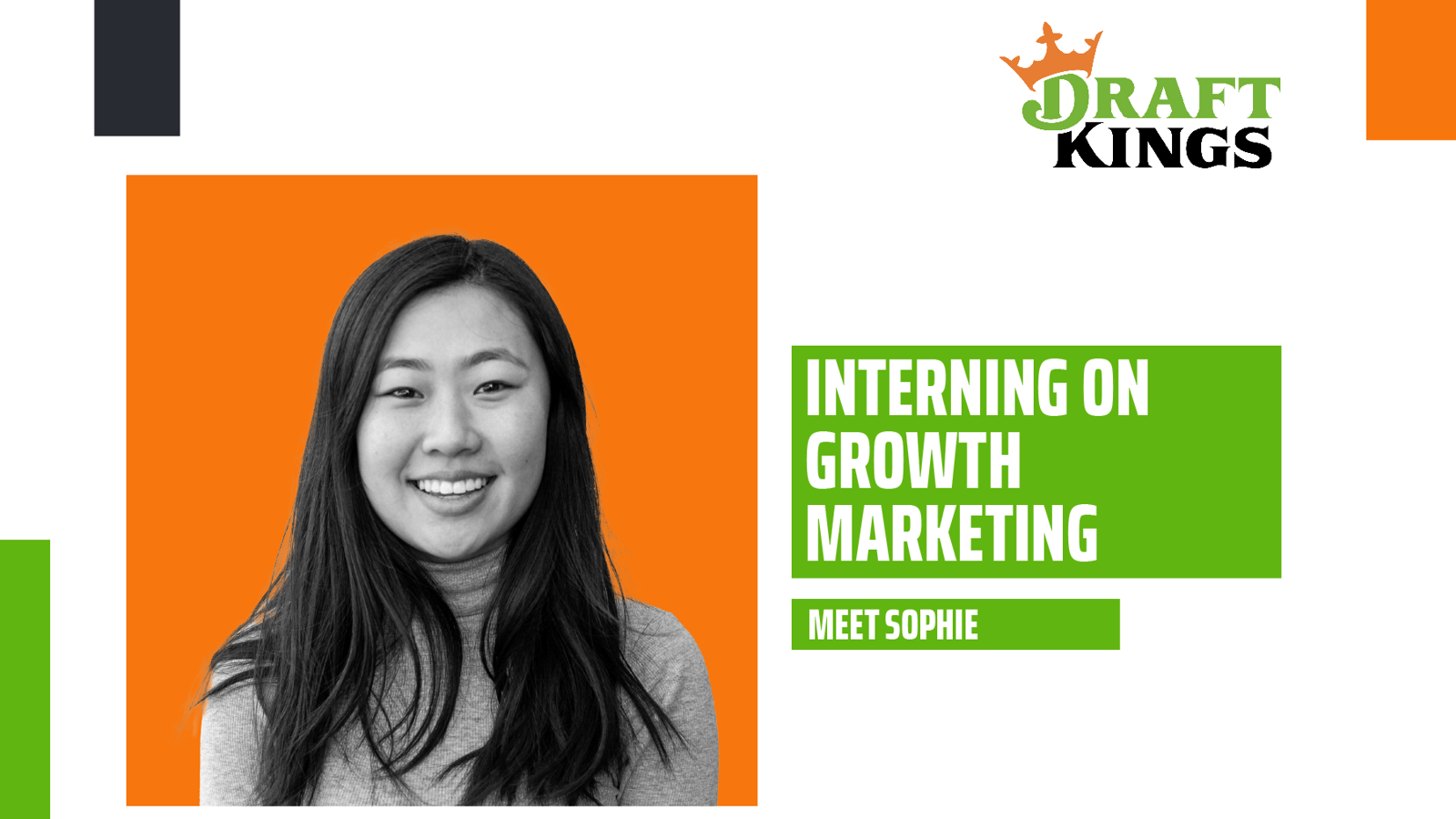 Interning On The Growth Marketing Team
Sophie joined our internship program in Summer 2021 to be part of the Paid Social team. During her time at DraftKings, she got involved in many initiatives across different Marketing channels. Sophie shares more about her experience below.
Which department did you join at DraftKings? What were your responsibilities in your role?
I'm on the Growth Marketing Team on the Paid Social side, focusing on the DFS and casino verticals. My responsibilities include setting up and running campaigns on Facebook, Snapchat, and Twitter. I also research competitor ads to help design new creatives and see those designs through from ideation to implementation. Additionally, I pull and analyze campaign/creative data to identify trends and ensure our spend targets are being hit!
What influenced your decision to choose your internship with us?
Another member of the Growth Marketing team introduced me to DraftKings and raved about the culture of collaboration and the work's exciting, fast-paced nature. After doing more research and speaking with the paid social team members, I was really impressed by everyone's passion and genuine interest in their work. However, what stood out the most about DraftKings was that the team also cared about me and my goals. They took the time to get to know me during the interview and made sure I would enjoy my time here while learning and contributing to the company!
What's your proudest accomplishment during your time here?
My team gave me full ownership of the Olympics campaigns on the casino vertical across Facebook, Snapchat, and Twitter platforms for my final internship project. I made bidding decisions based on KPIs and adjusted campaigns to maximize performance efficiency. Afterward, I analyzed the upper and lower funnel data to produce learnings that will improve future campaigns. I used everything I learned in the first eight weeks of the internship and presented the campaign results to the entire team.
What surprised you the most about DraftKings since working here?
Before this summer, I was under the impression that interns are often tasked with busy work and aren't tasked with real responsibilities because they have so much to learn, but this certainly wasn't the case at DraftKings! From the start of the internship, I was struck by how willing everyone was to teach me and give me increasing responsibilities when I was ready. During meetings, team members genuinely wanted to hear my thoughts and contributions because they valued my perspective!
Best advice from your mentor? Advice you would give new interns?
The best advice I've gotten from my manager is to make sure I understand why I'm completing the task that I'm starting. He always takes the time to make sure I comprehend the context of the assignment and my role in the larger game plan. Doing so has helped me feel super ingrained in DraftKings as a whole and incredibly invested in projects that I'm a part of. My advice to new interns is to take initiative! Don't wait for your manager to hand you work – reach out to members on your team to see where you can help out and try to anticipate the needs of your team as much as possible!
If you've always wondered what it's like to be part of a fast-growing tech company, join our internship program and find out for yourself!
Check out the latest DraftKings blog posts and meet our global team!
Read our Blog