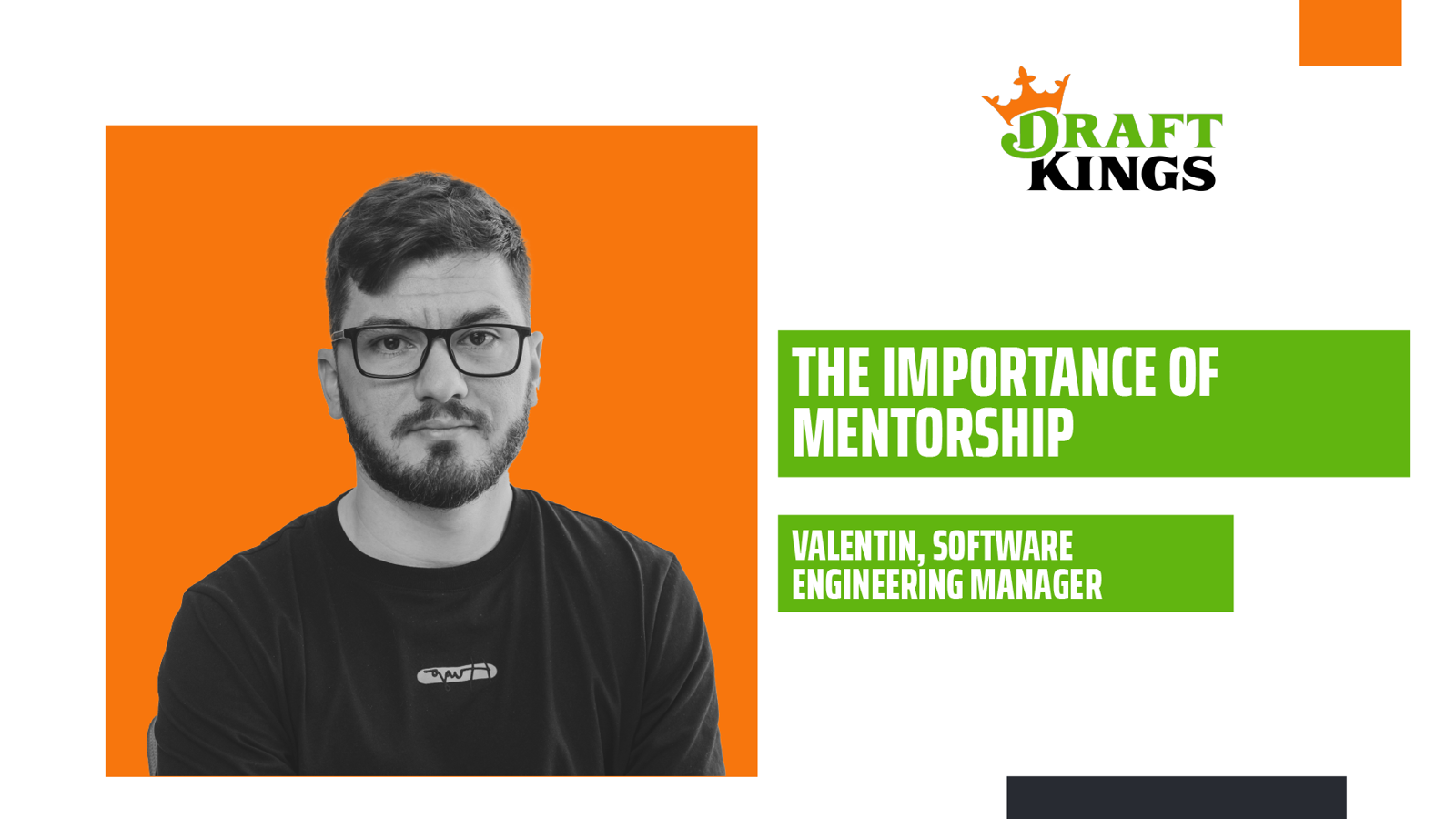 The Importance Of Mentorship
Meet Valentin! He is a Research & Development (R&D) Team Leader and part of our global team of innovation-fueled engineers who work on various projects and strive to bring award-winning products to our customers. Valentin has been an invaluable part of our Sofia team for quite some time now, and we are excited to share his story with you.
Tell me about yourself and when you joined DraftKings.
My name is Valentin - I joined DraftKings in 2019 for the second time. In 2015, I started my career here, and after some time, I decided it was time for me to explore new challenges. Working on different projects at another company during that period made me realize that no perfect company exists. But there are important values to me for my career. What I value most is being surrounded by great people and learning something new every day, both are parts of DraftKings' culture, so I returned to the organization in 2019.
What do you do at DraftKings?
I lead a cross-functional team of eight wonderful team members - five full-stack developers and three QA engineers. In essence, I split my responsibilities into software engineering and people leadership. The technical part ensures that the product requirements and software work on the customer side. The other part of my job is to help the individuals on my team progress their career paths and grow as a team. 
What products or technology do you work on in the business?
Our team is affectionately called the "Backbone" in the office - we often build tools that other development teams can use as a template for their solutions. For instance, we recently created a platform that removes the need to redeploy a whole application simply because a single widget has changed. That means teams that support monolithic applications can save a lot of time in delivery by deploying new code incrementally. Furthermore, we develop trading tools that our traders use daily to manage the sportsbook offering.
What does a typical day look like for you?
Usually, there is a queue of initiatives waiting to be started. For efficiency, I either work with the business and architects to shape the next pair of product requirements, solve problems with the team, review pull requests, or brainstorm ideas. I also enjoy hands-on work so that I can offload tasks from the group. You can sometimes find me staying late at the office with some of the engineers because we want to solve a problem, and we can't rest until we find a more elegant solution.
What is your most important responsibility as a manager?
​I believe the most important one is mentorship. Many engineers ask me the same set of questions during their interviews, "Will someone onboard me to the project?", "Is someone going to review my work and give me feedback?" or "Will I have a mentor?" 
I prefer to work alongside my team. I put in time and effort to communicate and help my teammates grow by challenging them. 
What do you take pride in your work?
There have been many successful and less successful projects in the past, but the first thing that comes to mind is something I find profound. There is a common belief that most people leave bad managers, not bad companies. I have been leading my team for almost three years now, and no one has left the team yet. I know it's natural that some will still take a different career path at some point, but knowing the demand for talent in our industry and earning their trust for so long makes me proud of the work I do every day.
Ready for your next challenge? Join our innovation-driven team today and grow your career in a dynamic and collaborative environment where tech is our art!
Want to take a deep dive into our Engineering world at DraftKings? Learn more on our DraftKings Tech blog.
Check out the latest DraftKings blog posts and meet our global team!
Read our Blog