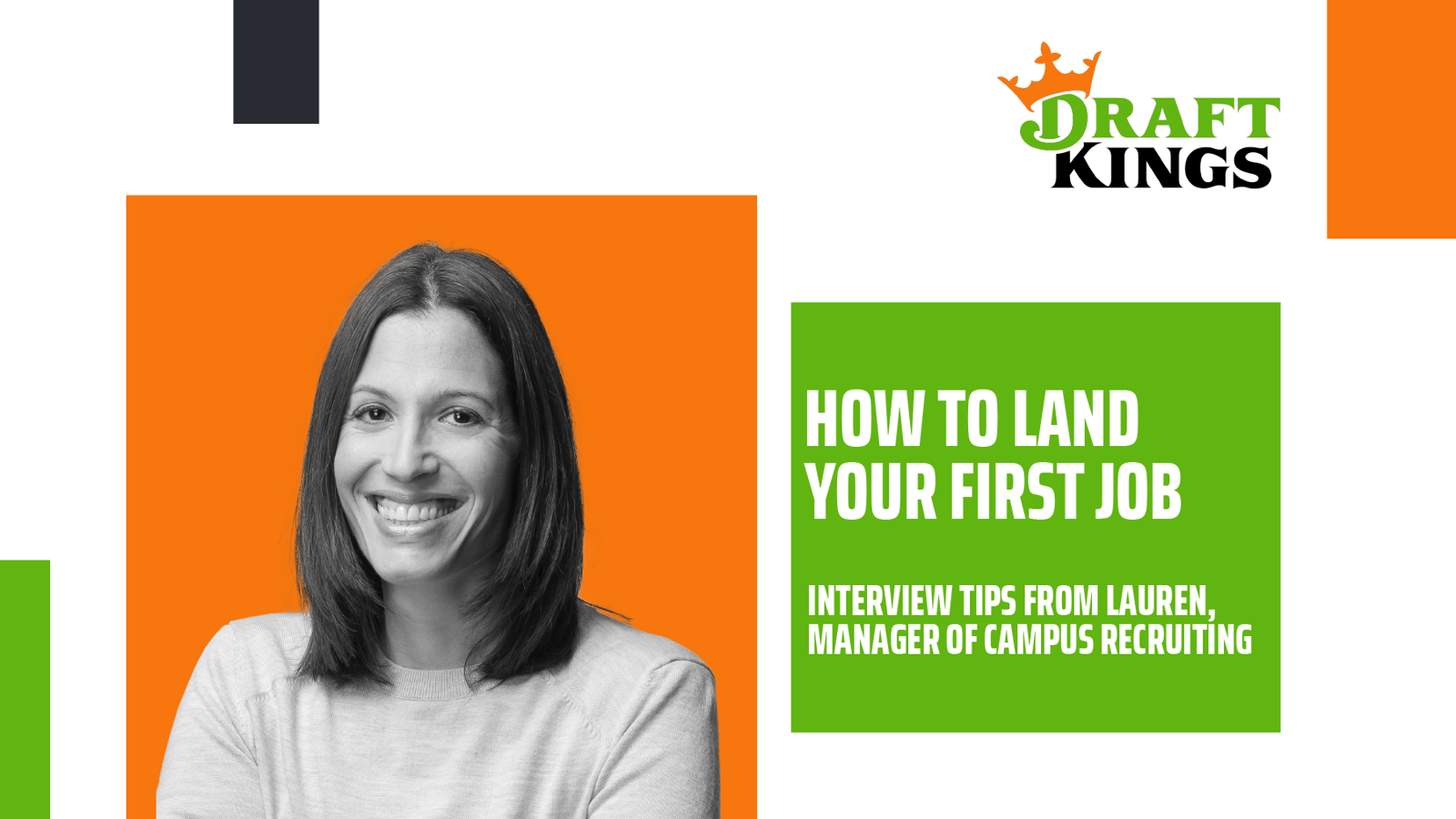 Interview Tips: How To Land Your First Job
Ever wonder how you transition from attending college career fairs to your start in the real world? You're not alone. Making that giant leap from school to landing your first job offer can feel overwhelming. Before any life-changing decisions can happen, you've got to ace your interviews. 
Meet Lauren, Manager of Campus Recruiting at DraftKings - she helps students showcase their skill sets and kickstart their careers. Having seen the same mistakes repeatedly during early career interviews, Lauren shares the best ways to tackle job interviews for graduating students.
More in her words below.
Tailor your resume to the job you want
Before we jump into interview tips, it should be noted that no two jobs are alike. Even if you apply for two positions with the same title, each company will likely value different skills and traits. Make sure you tailor your resume to address the specific requirements in the job description. While your previous work experience listed on your resume may not precisely match the job you are applying for, it's still valuable to show employers that you can complete tasks effectively and develop new skills. Highlighting transferable skills and experiences is incredibly helpful for recruiters to see how you can grow within an organization. You can also add non-work related and extracurricular sections on your resume to help you stand out from other applicants with similar educational backgrounds and skill sets. 
Research the company before the interview
You don't want to come across as unprepared, always research the company. Tell the recruiter what you have found out about the company and why you are interested. Be sure to check out the company's values, mission statement, and culture to gain additional insight. Think about how you embody the skills and competencies the company is looking for in a candidate. Make sure you are building that into your responses. 
Be authentic, no scripted answers
Don't tell the recruiter what you think they want to hear. Be authentic and genuine. Working in a role genuinely aligned with your goals is incredibly important. Recruiters can tell when your answers are scripted. Write down key points you want to convey, and make sure your answers are clear and concise. 
Communicate clearly and thoroughly
Communicate your answers and thought process clearly. Cut down on jargon and filler talk and make sure you are speaking slowly and give the recruiter a chance to understand you fully. Find ways to tell your story that will make sense to anyone. Practicing with friends is always a good idea. Pro tip - choose a friend who is unfamiliar with your course of study. They may be able to help identify jargon that needs more clarification for those unfamiliar with the topic.
Tell us about a challenge or roadblock 
Don't be afraid to share stories about things you worked on that did not go as planned. We don't expect perfection and want to see humility and growth. Think about stories and situations you are proud of, how you have been challenged, how you have grown, and what you have learned from these experiences. 
At DraftKings, we'll help you find the right role and pair you with a mentor when you start. Find the perfect role for you. What are you waiting for?
Check out the latest DraftKings blog posts and meet our global team!
Read our Blog