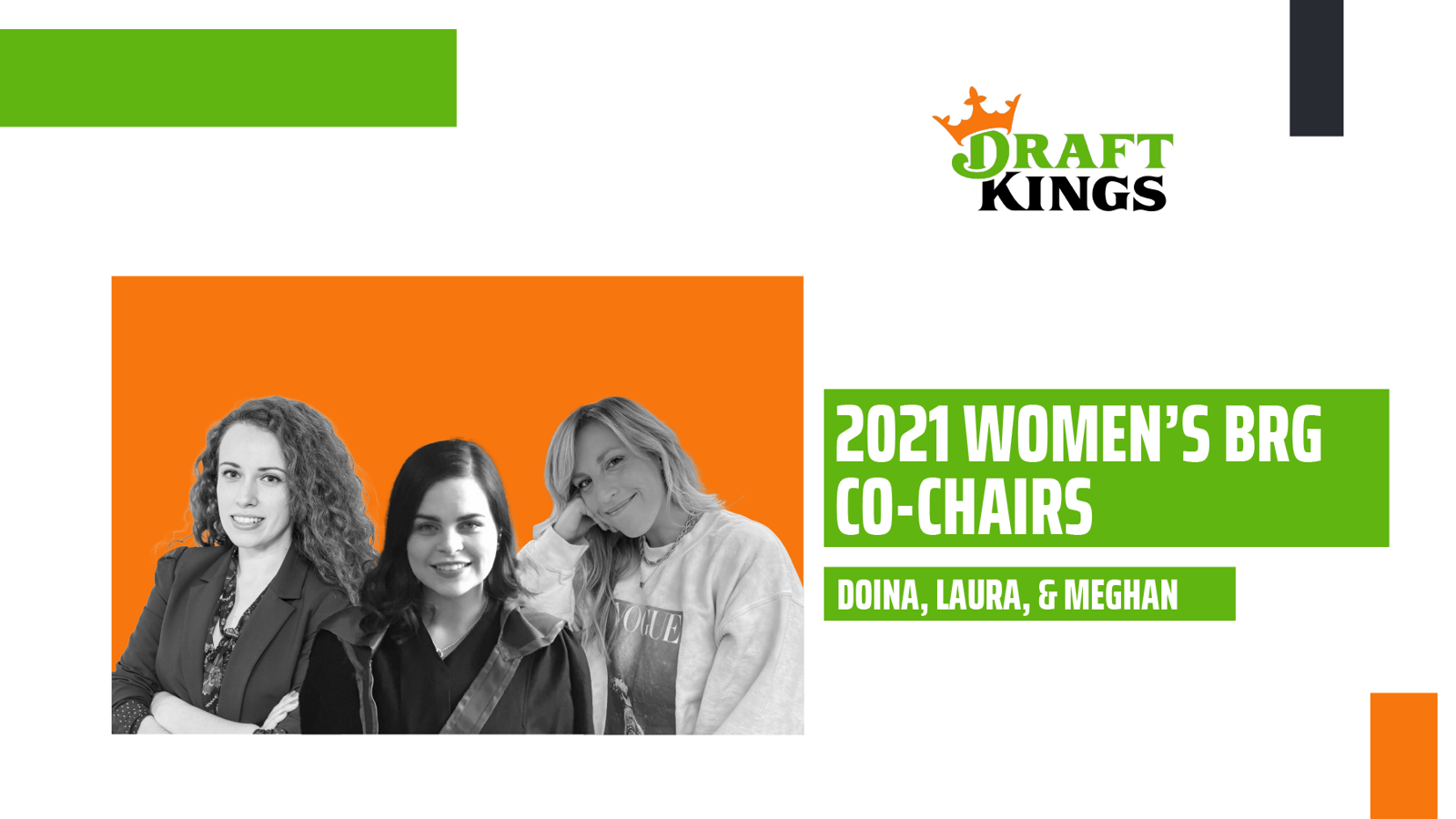 Women's BRG - New 2022 Co-Chairs
As we celebrate Women's History Month this year, we are incredibly excited to introduce the three new Co-Chairs of our Women's Business Resource Group (BRG) at DraftKings. Together, they sit in different countries and work on various teams across the organization. The primary goal of the Women's BRG is to bring women at DraftKings together so we can support, uplift, and celebrate each other. Our newly elected leaders will help bring these stories and different communities together. 
Our new 2022 Co-Chairs are Doina from the Sofia office, Meghan from the Boston Headquarters, and Laura from the Dublin office. We'll learn about their work, goals, and aspirations for the Women's BRG in 2022 and beyond. Hear more from them below.
Could you introduce yourself, your role at DraftKings, and how you got involved with DK Women's BRG? 
Doina: I currently head up the Enterprise Casino Operations team as Director of Gaming Ops. I've had about ten years of industry experience, and this is the first time I've ever gotten the opportunity to participate in a BRG. Deciding to join and apply for the co-chair position has been an incredibly enriching and humbling experience. I am grateful I can actively promote and support my fellow female colleagues and the larger organization. 
When I first joined a Town Hall in 2021, I was amazed to see the camaraderie and the collaborative spirit of the BRG members. I believe the Women's BRG is a place to find help and support, and it's wonderful to bring my input to that forum. 
Meghan: I'm a Talent Acquisition Specialist, and I joined DraftKings in 2018. I've been with the company for almost four years. I work out of the Boston office, and I'm so excited to be a co-chair for one of our amazing BRGs.
The Women's BRG has been a big part of my DraftKings journey, especially last year. I've had the privilege of meeting so many awesome people who have inspired me to own my growth, development, and leadership. It is reassuring to know that I have a community of strong women and allies who have my back, no matter the circumstance. I want to pay it forward and be that leader or mentor to future members of the BRG and continue to build a program that enhances culture and inclusion at DraftKings. 
Laura: I am a Senior Manager on the Compliance team, based in the Dublin office. I feel so lucky to be part of an international team of co-chairs this year and bring my own experience into this BRG.
What are your goals during your time as co-chairs? 
Laura: My goal is to increase engagement and participation within the Women's BRG and build on the community of the BRG by having a safe space for everyone to speak openly and give advice and mentorship where possible. We hope that the Office Hours series, which will feature longstanding members of senior management at DraftKings, will be able to help others overcome obstacles and provide additional tools on how to achieve their goals.
Doina: Before I applied, I reached out to the previous co-chairs and asked if anyone from our EMEA team had applied - it looks like I was the first. It was daunting initially, but my wish to see the EMEA teams brought closer to each other and with the US HQ was more powerful than any jitters I was feeling. This wish has been my foremost goal, especially now, throughout the terrible Ukrainian plight. I want to bring our female team members in EMEA closer to the decision-making processes, have their voices heard, and let them know their experience and skills should be promoted and celebrated. 
Besides that, my other wish is to work with DraftKings to create a baseline for female employment KPIs. What does female representation at middle and senior management look like? What are our promotion rates and career paths? Just finding our baseline this year and establishing a place of growth from there would be wins for my tenure. 
Meghan: We are such a large community at DraftKings, with people from around the globe bringing different perspectives and knowledge to the table. I want to see more collaboration, more participation, and continue building a strong community. 
As a BRG with international co-chairs, how do you plan to impact change globally? 
Doina: I hope our BRG can increase our EMEA team members' participation in the other BRGs and hope they find themselves more represented in the decision and achievement process that leads to the company goals. We all share in the success of our accomplishments. 
Laura: We hope to impact change globally by having more active involvement from all offices. We also hope that having a safe forum will ensure that all areas of the business feel they're being heard and have a community to reach out to for help and guidance.
Advice for anyone who wants to get more involved in the Women's BRG? 
Meghan: Come to one meeting! Bring a friend, meet a friend. It is a place that will always be here to support you in whatever ways you need.
Doina: Just show up! Your presence alone matters so much. Simply being part of the Slack group will bring up so many insightful questions and issues affecting others like you. Your unique input is such a valuable asset to the BRG. Go ahead and answer difficult questions, give your feedback, share your own stories, and see what comes out of it! We've been remote for two years, but we are still connected as a global team. We want to know you and your story!
We can't wait to see what the new leaders of the Women's BRG will bring in 2022. Our BRGs are a critical function at DraftKings, and we want to thank Doina, Meghan, and Laura for providing a safe and inclusive space for all.
Check out the latest DraftKings blog posts and meet our global team!
Read our Blog