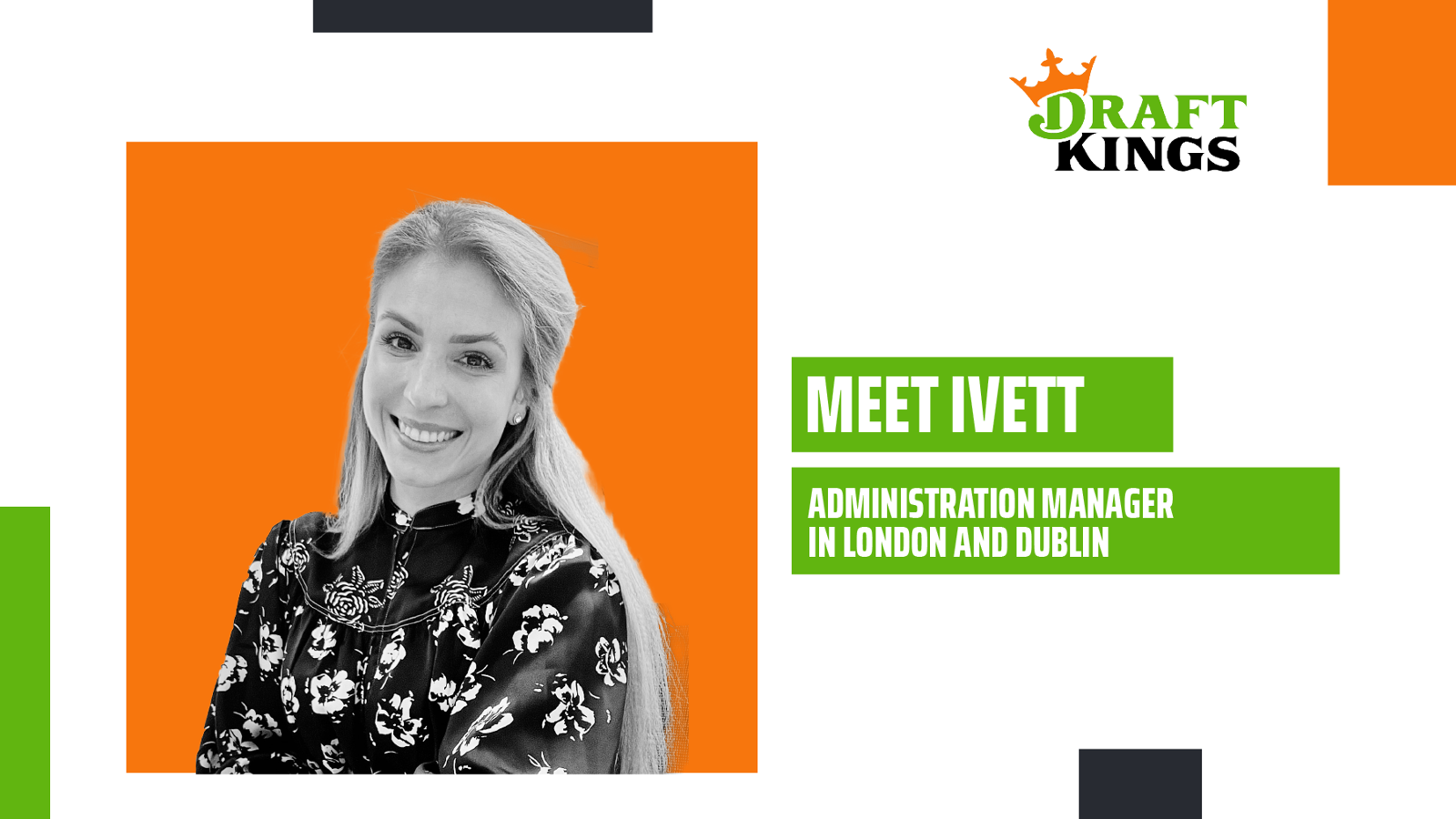 Creating A Collaborative Workplace
At DraftKings, collaboration is the staple of our teams' success and culture. Our offices and workspaces are where our teammates gather every day to innovate, create, and finetune our customers' most beloved products. To support our lively and fast-paced workspaces, we have team members dedicated to each office experience across the globe.
Meet Ivett Borbely, who looks after our offices in Dublin and London as our Office Administration Manager. We are excited to share Ivett's journey at DraftKings and provide an exclusive look into the busy world of creating an exciting office environment. 
Tell me a little bit about yourself and when you joined DraftKings. Where are you located?
I was born and raised in Hungary. I graduated from the University of Szeged as a PE teacher-trainer in 2014. Three months later, I moved to the UK, looking for new challenges and a workplace that would help me grow personally and professionally. When I joined DraftKings in 2019, I knew I had made the best decision. 
How did you get into this space? What drew you to DraftKings? 
When planning a career change in 2019, I looked for a company related to sports. I wanted to learn and grow professionally, surround myself with great people I could support, and create a better work environment. After doing some research, I knew I could find those things for myself at DraftKings.
What's the most exciting thing about your role?
The most exciting thing about my role is that no two days are the same. I work with many different departments daily to ensure the offices in the UK and Ireland are maintained to the highest standards. My priority is to keep a space where people feel supported, heard, and empowered. The range of tasks I do is extensive, and the list is long, which is what I love about my job.
What is the culture like at DraftKings?
The DraftKings culture is something I have never experienced before. It's very people-oriented, which is the key to our success. It's great to be part of an organisation where many people are passionate about what they do. They share their passion, knowledge, and positive energy with others. You feel valued, like an essential piece of the puzzle for everyone's success.
Tell me more about the events you organise in the office. 
We organise events every month with different themes and activities. For the NFL season kickoff, we arrange an NFL Happy Hour in the offices with exclusive DraftKings NFL swag, NFL décor, American food, branded cupcakes, popcorn, and beers. What more could you ask for to start the NFL season? 
Our team regularly organise onsite barbers and hairdressers to look after all our team members and ensure they feel fabulous after a fresh haircut, trim, blow dry, or the many other services they provide. This year, our teammates will also volunteer and find ways to give back to our community. We look forward to doing something good for the people around us. 
What advice would you give to someone considering a career at DraftKings?
If you're looking for a job where you want to feel valued and not treated as just another number, grow professionally, and have fun simultaneously, then this is your place!
If you want to work with great people like Ivett, check out the latest opportunities at DraftKings!
Check out the latest DraftKings blog posts and meet our global team!
Read our Blog