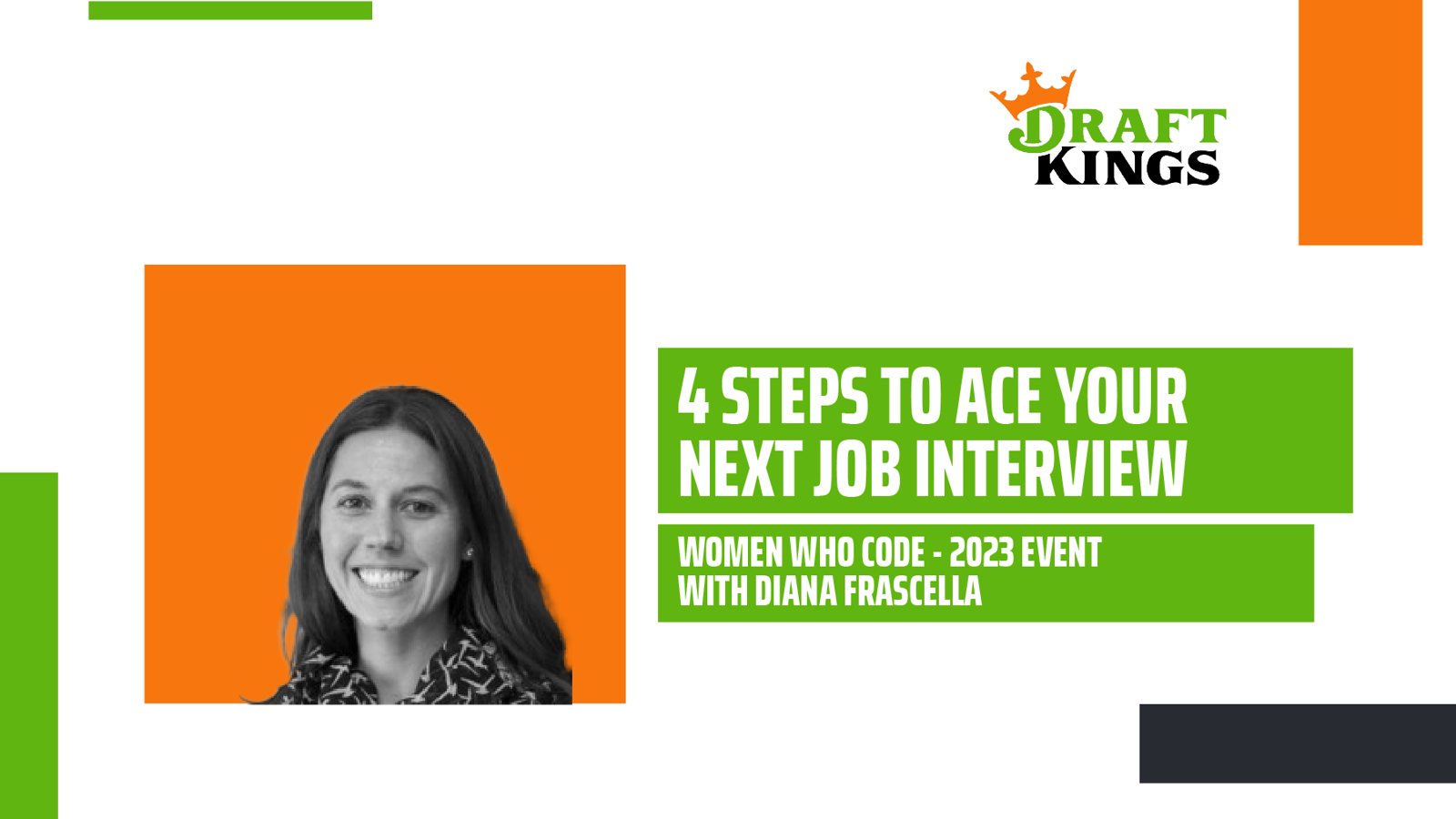 4 Steps To Ace Your Next Job Interview
Since 2022, DraftKings has been a proud sponsor of Women Who Code, the largest and most active community for women in tech around the world. Their global award-winning programs support 300,000 women looking to excel in their careers in tech. To date, they've offered over 15,000 technical training sessions, workshops, events, and hackathons and awarded over $4.2 million in educational scholarships and conference awards.
Last year, we had the opportunity to participate in the CONNECT Recharge global conference. For this year's CONNECT Empower conference, Women Who Code hosted an impactful discussion with our very own Diana Frascella, Senior Director of Global Talent Acquisition, on how to avoid common pitfalls during your tech interview—more in her words.
Hi! I'm Diana, and I drive our global hiring initiatives at DraftKings. As a global tech and sports entertainment company, we help candidates prepare for their interviews so they can confidently showcase their unique skillsets and expertise when seeking a new role.
Our commitment to diversity and inclusion at DraftKings is part of our cultural DNA. We firmly believe that it is an ongoing pursuit that everyone at DraftKings has a responsibility to uphold. This belief extends beyond our offices and employees as we continue to partner with incredible organizations that align with DraftKings' values and mission to make our larger community a fair and equitable space for each individual to achieve their career goals.
I'm so honored to have had a chance to speak at this year's Women Who Code conference and continue to support women in the tech industry. Once you land that first phone screen, here are the four critical steps to ace your next job interview.
1. Screen
During the screening process, research and do some homework on the company where you're interviewing. Have your talking points ready to highlight your technical skills and experience. Ask thoughtful questions about the role and the work this role will require. Don't forget to update your resume and LinkedIn profile.
2. Assess
While working through the assessment portion, keep track of your time and avoid tunnel vision on one specific challenge or task. We want to hear how you solve problems, so talk through your process out loud. Pace yourself as you go through the assessment to capture all your thoughts and ideas. 
3. Interview
As you prepare for your interview, be ready to talk about your past contributions to key projects and initiatives. We want to hear about the impact you've made, your passion for your work, and how you've worked through roadblocks. Educate yourself on who will be on your interview panel. This preparation will help align your conversation with the team.
4. Offer
If you get an offer, don't hesitate to negotiate and get the compensation package you deserve. Research industry trends around compensation in your area and establish your target salary. However, be flexible as compensation is more than the base salary. Look at the compensation package holistically when considering negotiating and accepting an offer.
I am so grateful for partnerships with organizations such as Women Who Code, which allow us to share our passion and work with their broader communities. If you're considering your next career move in tech, check out these job opportunities at DraftKings.
Check out the latest DraftKings blog posts and meet our global team!
Read our Blog