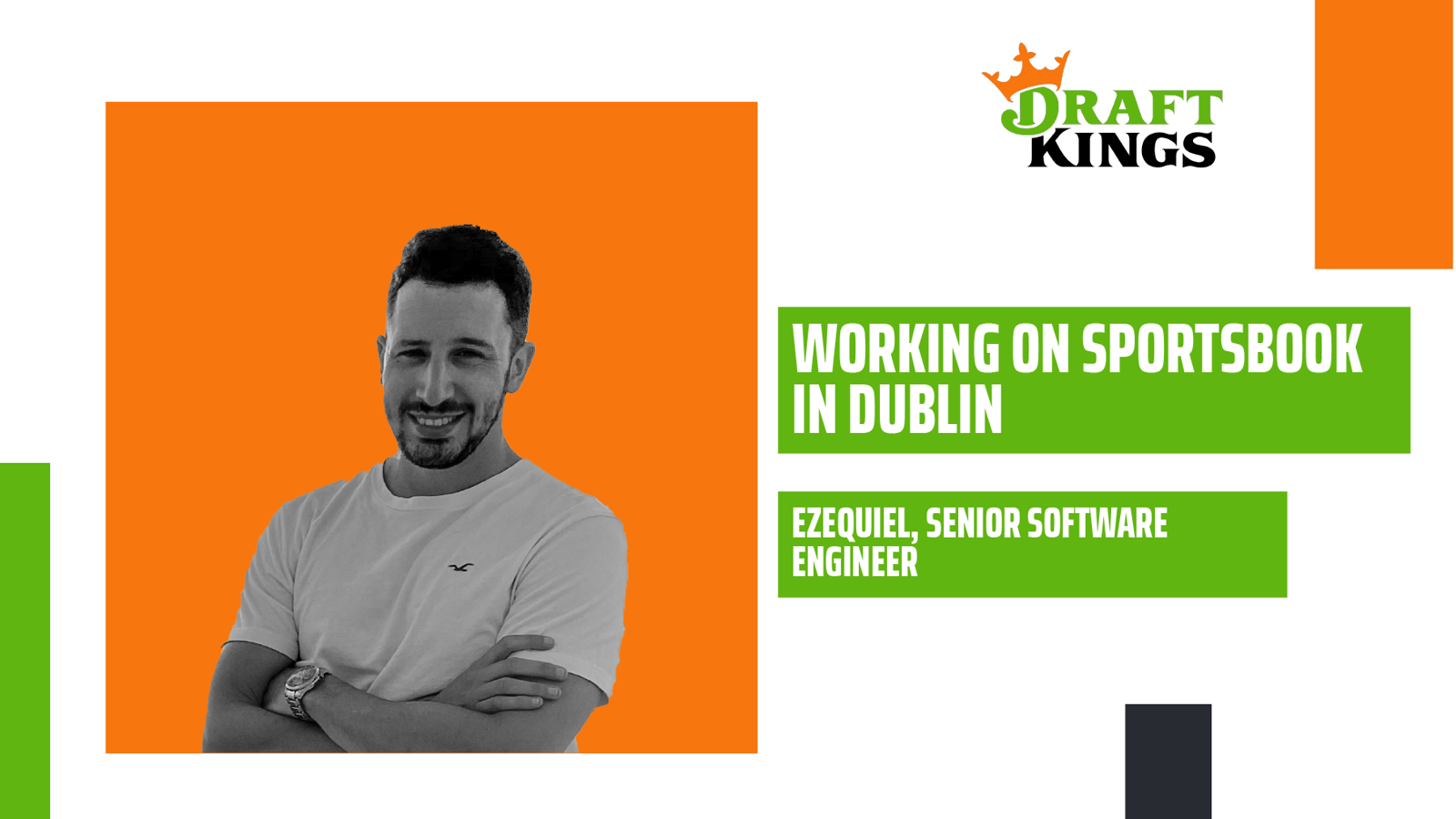 Working On Our Sportsbook Product
At DraftKings, we are always looking for new ways to challenge and change the tech industry. Our company is a mosaic of passionate individuals who work relentlessly to help us achieve those goals. We recently chatted with Ezequiel Fridman (he/him), Senior Engineer on our Sportsbook vertical. Ezequiel started at DraftKings remotely in Argentina and recently relocated to Dublin, a melting pot of cultures and a bubbling tech hub.
Tell me a bit about yourself and when you joined DraftKings.
My name is Ezequiel Fridman - I am a Senior Software Engineer on the DraftKings Sportsbook team. I joined the team in April 2020, and I have worked in the software engineering industry for over ten years. I currently live in Dublin, Ireland, but I'm from Buenos Aires, Argentina.
How did you get into this space? What drew you to DraftKings?
The reasons that made me choose DraftKings over other opportunities I had were the vision and ambition of the company to be the leader in a very competitive new industry in online gaming. Additionally, the technical challenges that this platform has made me believe that there are a lot of growth opportunities here, and I can build a rich portfolio while working for DraftKings. I can confirm I wasn't wrong about that. Equally important, the recruiters who interviewed me were extremely warm, and it's never a bad idea to work with friendly people.
How was the move from Argentina to Dublin? How do you stay connected with your team during these times?
Starting at DraftKings during a pandemic has been interesting. I should point out that Spanish is my native language, and this is my first job working in English. Some people may think that working remotely could present a language barrier, but the folks at DraftKings have been incredibly supportive. Fortunately, in the very few instances that I had a problem understanding something, my team patiently took their time to explain to me again. Relationship building has been surprisingly easy despite not being able to be in the office together. I've made a lot of friends at DraftKings, even working from home. Due to the current climate, it took me a year and a half to relocate from Buenos Aires to Dublin, but everyone at DraftKings was very patient and supportive throughout the process. 
What does a typical day look like for you?
For me, a typical day starts with reviewing the sprint backlog, the day's goals, anything delayed that needs attention, or if we can grab a new ticket. The team is goal-oriented but flexible, allowing us to work on our own time as long as we complete the tasks. We work with scrum; we do all the rituals, from daily standups to roadmaps and retros.
What exactly is Sportsbook? How do the teams work together?
Sportsbook is a product where our customers can bet on their favourite sports in a vast range of offers, for example, which team will score more goals in a match or who will win, and so on. Many teams work on this vertical, divided between Boston, Dublin, and Sofia. While Sofia is the primary owner of the offerings we display on site, the teams in Boston and Dublin work on the services that are customer-facing to deliver the best user experience.
What is the most exciting thing about your role that others may not know?
The role of Senior Software Engineer in DraftKings Sportsbook is deeper than coding but also about working closely with your team to understand regulations, do tech planning, work with Architects on the system design. We also work with databases, our CX and Ops teams to solve real-time issues on the platform. Perhaps the most exciting part of my job is the challenges in platform performance. It's not only about writing code that works but stacking that up next to the nature of sports betting.
What helps you succeed and thrive in your job? When a roadblock pops up, how do you solve it?
If you want to succeed as an engineer here, you have to be very pragmatic. Follow your instincts to guide and discuss priorities, and try to work in the most efficient way possible to achieve the set goals. If a roadblock emerges, provide options and discuss with the team, solving every case using data and metrics.
Advice for someone who is looking to join Sportsbook or become an engineer?
My advice for anyone trying to become an engineer is to embrace change and remain curious to improve as an engineer. Never believe that you know everything. Keep learning, read engineering books and other books for soft skills. Being an engineer is about solving algorithms, being a good team player, and helping others be the best version of themselves. If you want to join Sportsbook, you must love challenges, and you get to solve these challenges with the best people.
If you love solving problems and building products that will impact the real world, we want you to join the DraftKings engineering team!
Want to take a deep dive into our Engineering world at DraftKings? Learn more on our DraftKings Tech blog!
Check out the latest DraftKings blog posts and meet our global team!
Read our Blog