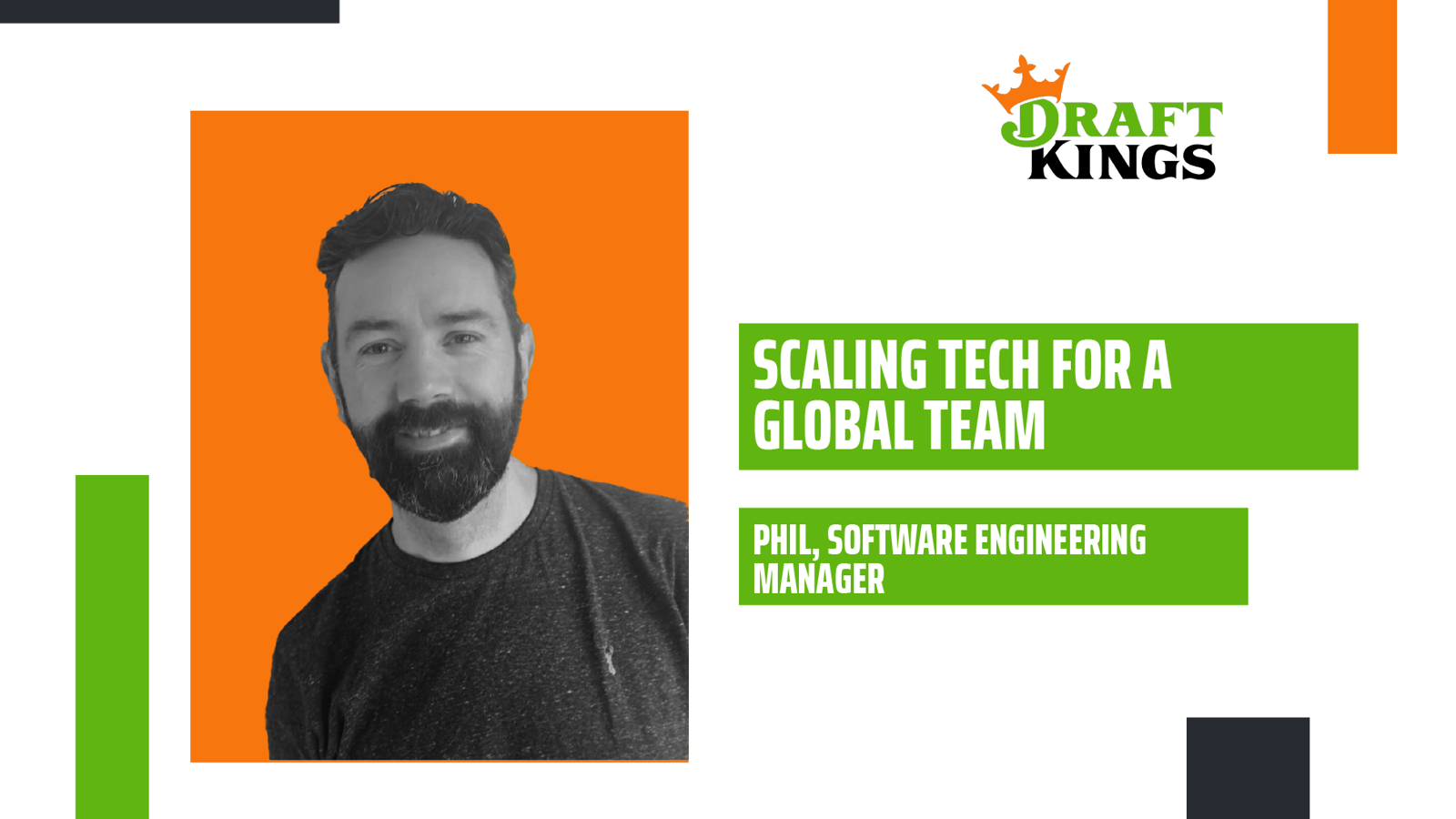 Scaling Technology For Sportsbook
Today, we introduce you to Phil, Software Engineering Manager, based in our Dublin office in Ireland. Phil has extensive experience in the software engineering space, bringing his talents to DraftKings this year. Learn more about Phil's day-to-day, journey to date, and his reason for joining a global organisation.
Tell me a little bit about yourself and when you joined DraftKings. 
I have worked in the software industry since 2006 as a Software Engineer through to Principal Engineer and Technical Architect. I've also worked within the engineering management stream for the last few years.
I joined DraftKings in Dublin at the start of 2022 as the Software Engineering Manager for the Sportsbook unit. My primary task was to manage one of the teams in the Sportsbook feeds unit based in Sofia, Bulgaria. Working with a global team has opened our team to more diverse ideas and perspectives. 
How did you get into this space? What drew you to DraftKings? 
I previously worked at a smaller company and was tasked with the multi-disciplinary role of Principal Engineer/Technical Architect/Engineering Manager. With DraftKings being a much larger organisation, I could focus on one area and still hold a technical scope. The tech stack drew me in - working with a multi-geographical operation and scaling for a global team were appealing. For those reasons alone, DraftKings seemed to be a perfect fit for me.
How do Sportsbook and the other teams work together? 
Sportsbook is the sports betting section within the DraftKings product suite. That covers areas from the generation of sports offerings (i.e. full-time odds, under/over placements, incidents etc.) to the presentation of sports odds to the customer via the app for them to place bets. 
The Feeds unit within Sportsbook, the area I focus on, is the starting point for Sportsbook. Within the Feeds unit, we get our information from several sources and parse that data to represent a single source of truth. This data covers the odds for particular events and numerous data points to allow other units to decide what to present to the end user.
What does a typical day look like for you? 
My day typically starts by catching up with what has happened since I logged off the previous evening, then getting back to anyone who needs help, pointers, or answers. Other than this, my time is spent talking to the various team and unit members and keeping track of the current workload.
The teams here work within Scrum; therefore, we have regular routines with daily stand-ups, retro, and reviews following a two-week cycle. I'm involved in several scrum meetings weekly, from looking towards priorities for upcoming sprints to reviewing daily tasks. I also like to catch up with my direct team members to check in and see how I can support their work and career development.
What's a fascinating aspect of your role?
Although I don't code as much as I did in previous years, I still actively participate in the development role and processes. With that, I get to look into various solutions and have an active say in how we as a team should work on our solutions and further proof of concepts. I also frequently collaborate with the unit's technical experts and architects to be part of the design conception solution. This global network helps me see the bigger picture at hand.
What helps you succeed and thrive in your job? 
As a manager, I have to focus not only on the daily tasks, backlog items, and roadmap but also on the holistic view of the team. I'm invested in getting the best out of my team to help them succeed. I've worked with some wonderful managers who have inspired me to be a more effective leader.
When a roadblock pops up, how do you solve it? 
The simplest way that we resolve roadblocks is clear communication. We have a flat structure, so the lines of communication aren't hampered by levels. For example, if a developer has an issue, they can go directly to the architect if needed. In meetings where requirements or issues are being discussed, the discussion is open to everyone, and everyone's input is valued.
Any advice for someone looking to join Sportsbook or become an engineer? 
To join Sportsbook or any of the teams within DraftKings, we not only look for people with technical qualifications but also those who can demonstrate technical ability and a passion for continuous learning to challenge their knowledge and advance themselves and the company.
If you want to be part of an exciting global team leading the tech industry to new heights, join our Engineering team at DraftKings.
Want to take a deep dive into our Engineering world at DraftKings? Learn more on our DraftKings Tech blog.
Check out the latest DraftKings blog posts and meet our global team!
Read our Blog