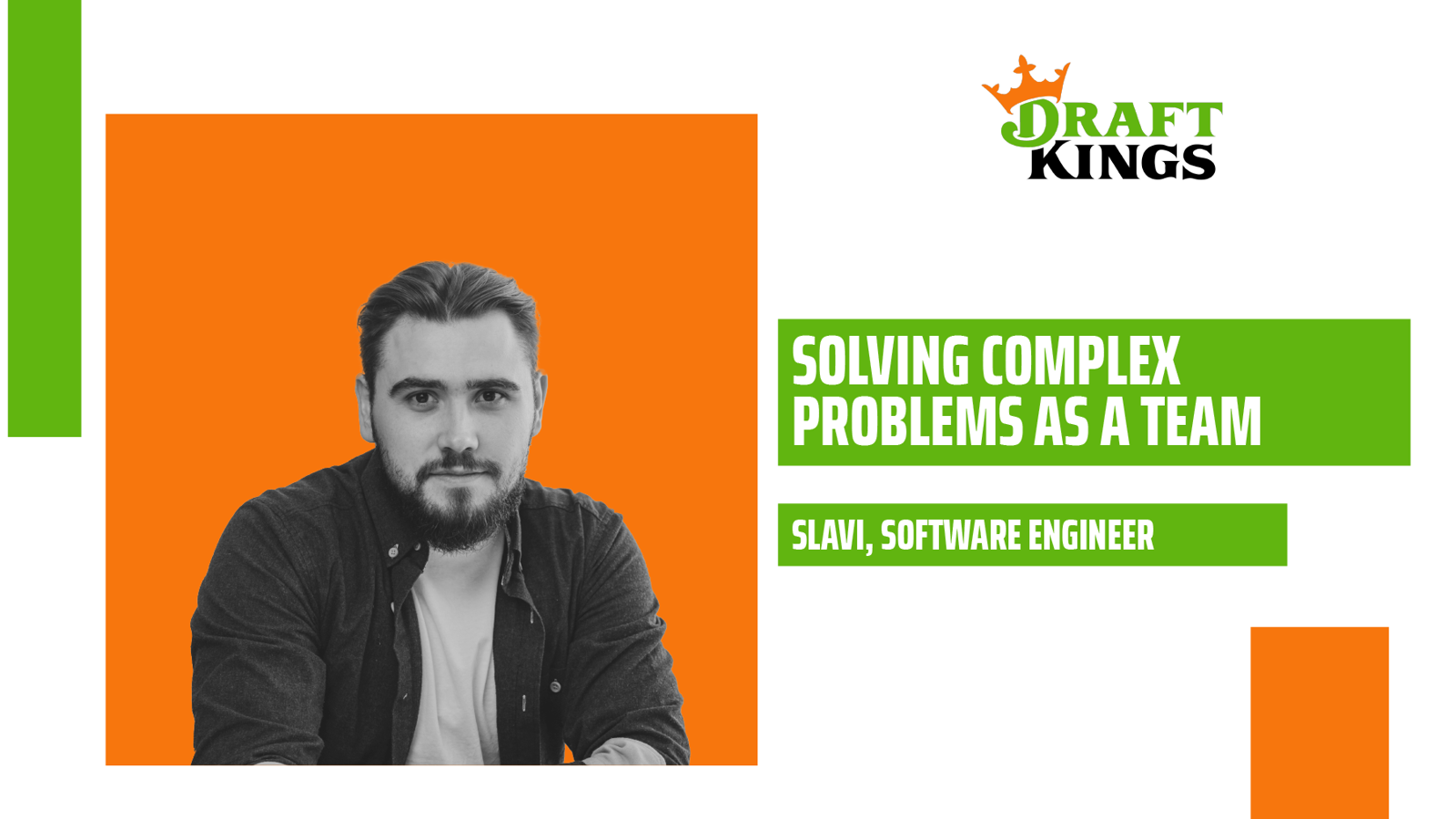 Solving Complex Problems As A Team
Our global engineering team is one of many things we are proud of at DraftKings. Together, we work on building the next generation of innovative products, and we know the value we bring to our customers with our work. That's why we always strive to be ready to own what's next!
Meet Slavi (he/him) - he is a Software Engineer based in Bulgaria and has lots to share about his DraftKings journey. Read his story below:
Tell me about yourself, your role, and when you joined DraftKings.
Hi! My name is Slavi and I am а Software Engineer. My team and I work on developing one of our core products called Sportsbook. I joined DraftKings sometime in 2020, which laid the foundation of an incredible career journey that I am still enjoying to this day.
How did you get into this space? What drew you to DraftKings?
Before joining DraftKings, I was part of one of the software academies here in Bulgaria. I was pretty happy with my previous job until I realized I was ready for a change. I needed a place where I can bring my career to the next level. A place that values code quality and challenges you to work on improving yourself every day. 
A teammate of mine used to say, "Let's do it the right way, not the way we are used to doing it." This requires you to get out of your comfort zone, which is exactly what I needed. 
When an opportunity at DraftKings came up, I already had a few friends who were working there and were able to give me the inside scoop, and it sounded like the perfect next step for me. 
That's how I ended up on the Sportsbook team at DraftKings, where I'm able to work on exciting, future-defining projects, supported by great professionals, always ready to help you and give you the necessary mentorship for your growth. 
What's your favorite part of your job?
The best part of my job is the moments when we create something new from scratch, and when we can find a solution to a complex problem. We exchange ideas and brainstorm together until we find the perfect fix or figure out a detailed plan with the steps we need to take. This process is exciting in a way I can't really describe - it awakens your curiosity and drives you to think outside the box. It challenges you, which means it's helping you develop a new skill every time.
What helps you succeed and thrive in your job?
My biggest motivator is my team. When you are surrounded by teammates who truly care about what they do, and are openly sharing their knowledge, you feel inspired to improve. There is no place for excuses - you simply want to be the best version of yourself.
When there is a roadblock, how do you solve it?
I would say it's important to love your job, your team, and your day-to-day activities. This way, you'll be able to appreciate the challenges and see them as opportunities to grow.
Like I said, encountering challenges is actually quite exciting to me. We all learn the most when we stumble on roadblocks. 
Any advice for someone who's looking to become an engineer or join DraftKings?
When I taught software engineering, I used to say to my students that the most important thing for someone who wants to achieve anything is to do it with passion. You have to love what you do and have the right motivation. If you are motivated to learn and grow, then you'll succeed at DraftKings.
If you're ready to join a team of self-starters, who will work with you to build the best-in-class products, then apply to be an Engineer at DraftKings. We're committed to helping you be the best version of yourself.
Want to take a deep dive into our Engineering world at DraftKings? Learn more on our DraftKings Tech blog.
Check out the latest DraftKings blog posts and meet our global team!
Read our Blog