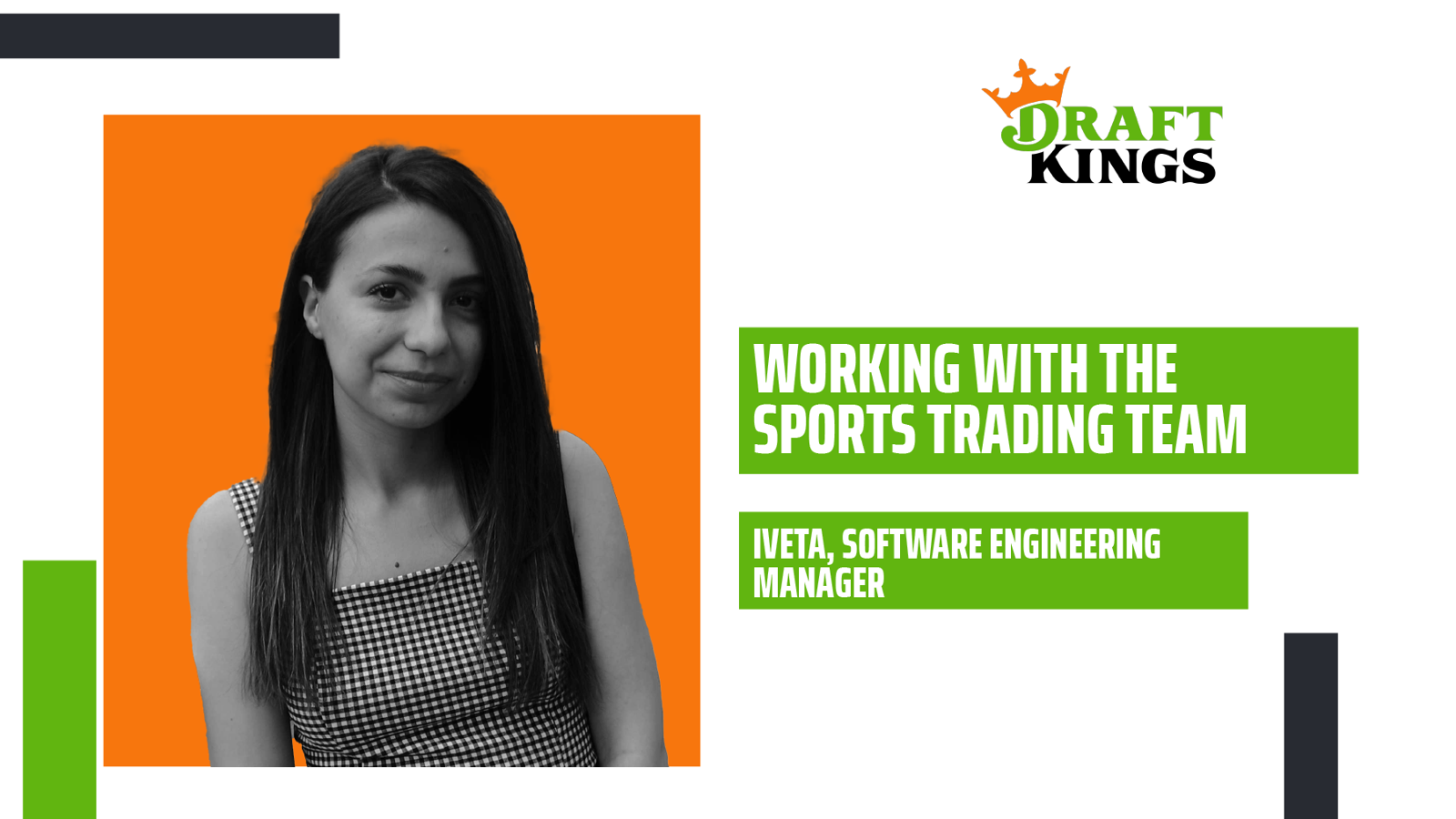 Building Internal Tools For Sports Trading
We are a global team of talent building the next generation of products to bring the best user experience to millions of DraftKings customers. In our Plovdiv office sit some of our engineers and sports traders. Their work enables the global team to roll out and implement the best solutions to the technology we work on daily.
Today, we meet Iveta, Engineering Manager, based out of our Plovdiv office in Bulgaria. She has worked on different teams and projects throughout her eight years at DraftKings. Iveta credits the amazing people and the endless possibility to learn for her long career in the organization. Read more about her journey below.
Tell me a little about yourself and your work at DraftKings.
I joined DraftKings eight years ago in 2014 - I was part of the first internship organized in Plovdiv, Bulgaria. I am currently a Software Engineering Manager of the Filibeto team in Plovdiv. Our team is building internal tools that are helping the sports trading team with their day-to-day work. We are constructing small services for managing live data for different sports, tools for internal trading settings and sports configurations, and creating reporting and auditing tools. 
When I first joined, I started on the Production Support team, going from second to third-level support and mentoring new team members. I am passionate about my work and keeping up with the technology landscape since it's an ever-changing space. As a manager, it is my responsibility to communicate and be empathetic with my team members. It helps me lead my team to achieve its goals.
How did you get into this field?
I found informatics classes to be very interesting in school. After graduating, I decided to explore more in this field, so I enrolled in university to study software and technology to learn more. Looking back, this was the best decision I made. I'm passionate about my work - I can't see myself doing anything else.
What's the most exciting thing about your role?
The most exciting aspect of my role is building the best team. As a manager, it's important to me that I motivate, inspire, and bring out the best in each of my team members. The people are an essential asset for any organization, so I want to help every team member face any challenges that might come up and guide them to achieve their goals. I believe we all go much farther as a team.
You've been at DraftKings for eight years. Why have you stayed so long?
I've had the privilege of working with incredible people. I've met many amazing people during my eight years here, each person contributing significantly to my professional and personal growth. Over the years, I've also had many opportunities to learn new things, work with new technologies, and have uniquely challenging projects. It is tremendously satisfying to see the final result and see it implemented for the traders across our global team. The culture we've fostered in Bulgaria makes me feel like I am part of something bigger.
What excites you about the future of DraftKings?
I am very excited to see how the company will evolve in the near future - the challenges ahead of us, and how we, as a company, will develop and be the top performer in our industry. My personal goal is to keep tackling those solutions with the best people around me.
If working and learning with incredible colleagues pique your interest, discover your potential at DraftKings!
Want to take a deep dive into our Engineering world at DraftKings? Learn more on our DraftKings Tech blog.
Check out the latest DraftKings blog posts and meet our global team!
Read our Blog