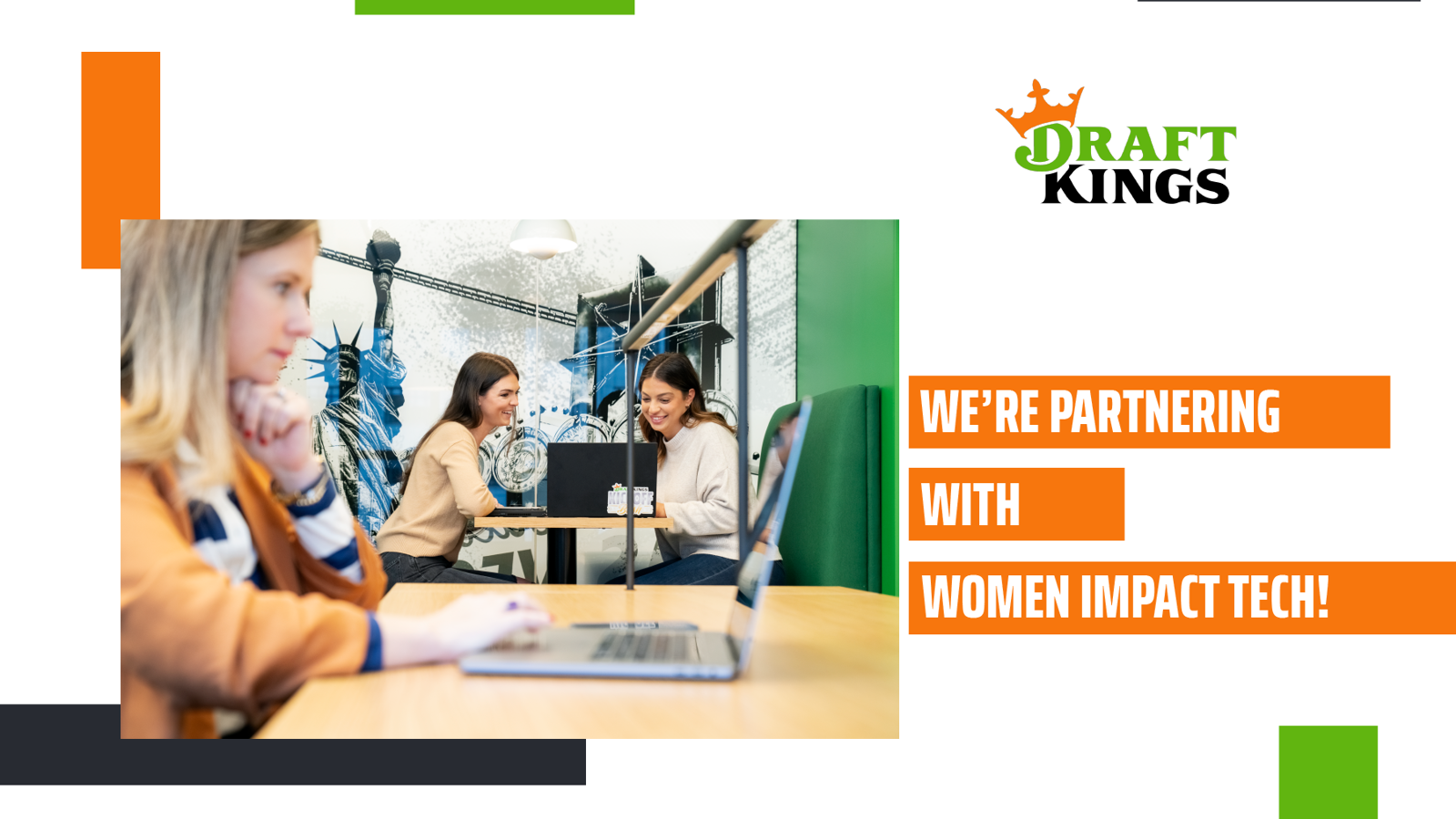 DraftKings Partners With Women Impact Tech
As a global tech company, we're focused on providing the next generation of talent with opportunities to grow and develop their careers. DraftKings is committed to partnering with organizations that are making an impact and giving everyone a seat at the table. We know this will take time and long-term collaboration, but we are dedicated and taking actionable steps toward our Inclusion, Equity, and Belonging initiatives at DraftKings.
As part of our pledge to increase equity in hiring, we are proud to continue partnering with Women Impact Tech, a community dedicated to women in the tech industry through collaboration and professional development. Their mission is to inspire and connect women across the industry, assisting in advancing their careers and bringing attention to organizations that have a strong passion for expanding and enhancing their DEI initiatives. 
This year, DraftKings is sponsoring four Women Impact Tech Accelerate Conference Series across the country. These conferences feature keynote speakers, workshops, and panel discussions on various tech-related topics. Attendees can learn new skills, stay up to date with the latest trends and innovations and gain insights from industry experts. 
CHICAGO
We kicked off the year in Chicago with two speakers from DraftKings. Nehal Odedra, Engineering Manager of Rewards Experience, and Heena Surve, Lead Software Engineer, hosted a session on navigating the workplace as women in tech. They touched on imposter syndrome and how it affects women in the workplace, especially in tech. The discussion also offered solutions to combat this common problem, such as having a mentor to help navigate issues and track progress.
DENVER
In Denver, Jennifer Ingle, Senior Manager of Release and Change Management, highlighted leadership as a service and how to lead with trust and empowerment. She identified the three drivers of trust: authenticity, logic, and empathy. Over time, the goal is to drive success, create community, and build a more confident team.
We're so inspired by all the insightful conversations we had with women from all different backgrounds and experiences in the industry during the Chicago and Denver events. Soon, we'll be coming to Boston and Atlanta!
BOSTON
On August 21st, we'll be in our hometown of Boston, Massachusetts. The upcoming Women Impact Tech in Boston will feature DraftKings' very own Celeste Cefalu, Senior Director of Product Design, as a speaker. During her session, Celeste will discuss guiding principles and some hard-learned lessons on what not to do during the design and development process. She'll also share the similarities she's discovered between UX designers and architects - as stewards of the user during the construction of both digital and physical spaces.
ATLANTA
Don't worry if you can't make the Boston event because we'll be coming to Women Impact Tech in Atlanta on September 13th. Carmen DiMichele, Vice President of Product & Tech at DraftKings, will speak at the event. Carmen's session will center around being an ally in the workplace and amplifying female voices. We can't wait to see you there!
If you're in the Boston or Atlanta area and interested in attending these incredible events and networking with the very best in tech, make sure you register for the events and begin the conversation with us!
Ready to join our Engineering team? Check out our open roles and apply today!
Check out the latest DraftKings blog posts and meet our global team!
Read our Blog