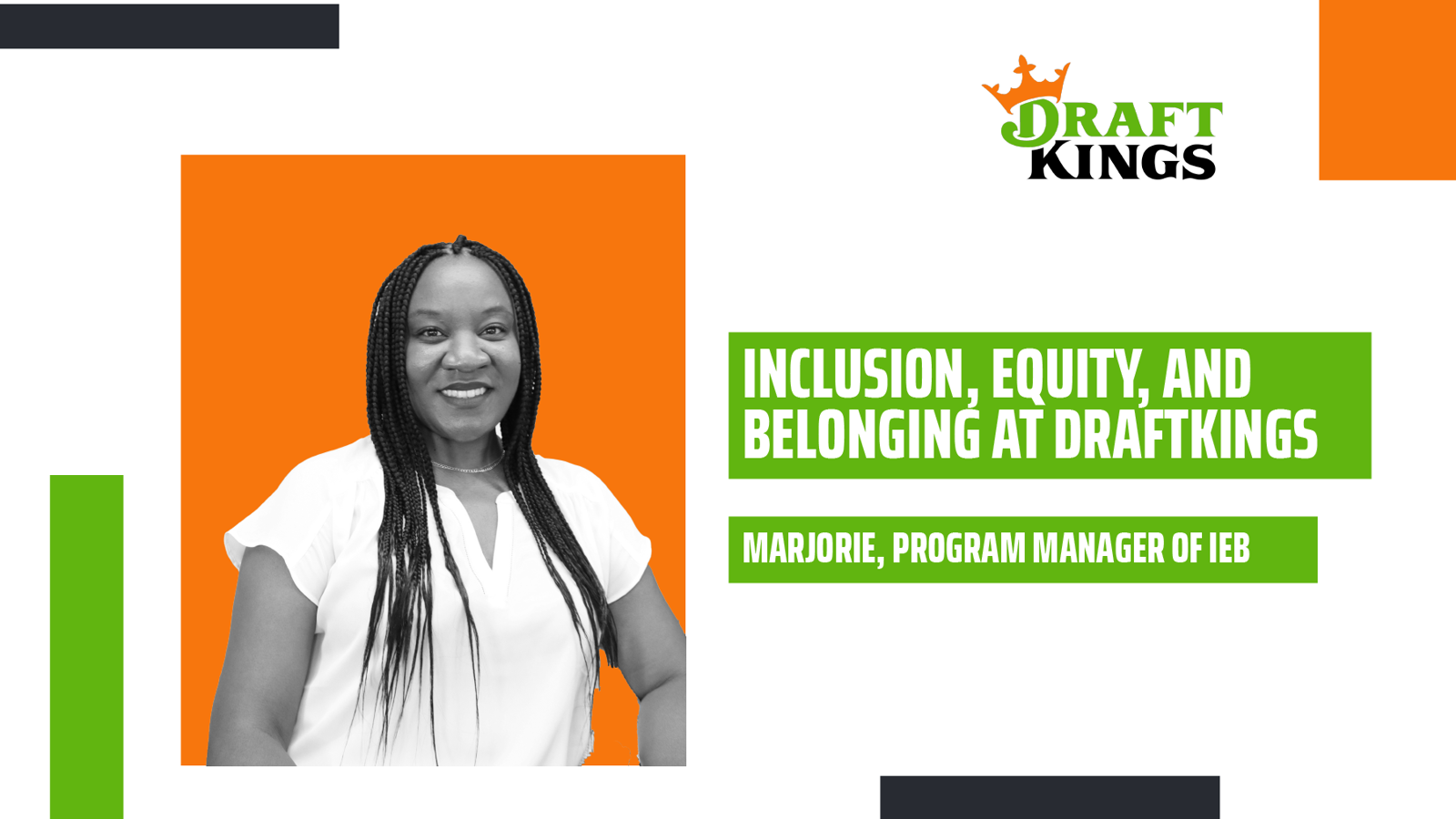 Inclusion, Equity, & Belonging at DraftKings
Meet Marjorie, Program Manager on our Inclusion, Equity, and Belonging (IEB) team. Since joining earlier this year, Marjorie has been committed to bringing more visibility and participation around IEB initiatives to the DraftKings community and leadership. Learn more about Marjorie and her work below.
Hi! My name is Marjorie, and I joined DraftKings as an Inclusion, Equity, and Belonging (IEB) Program Manager in January 2022. I'm based out of the Las Vegas office but am originally from Los Angeles. 
I grew up in an ethnically diverse area of Los Angeles. My neighborhood and its people significantly impacted me throughout my life. I had friends from all walks of life, many with experiences vastly different from mine. Through my community, I grew up listening to and learning from other people's stories, perspectives, and unique experiences - often rooted in race, gender, and class. These shared stories largely influenced my passion for diversity, equity, and inclusion work and fueled my enthusiasm for helping others feel seen, heard, and valued.
My role as Program Manager on the IEB team allows me to transform our culture here at DraftKings through our ongoing initiatives and projects. I work closely with our global teams to advance our diversity and inclusion efforts and lead the execution of our company-wide IEB engagement through partnerships and programs. These initiatives bring cultural awareness and ongoing dialogue around DEI topics.
As a technology company at its core, DraftKings believes that the best innovation comes from diverse perspectives, beliefs, ideas, and experiences. Our teams consistently push boundaries and challenge the conventional to ensure our culture and products reflect the expectations of our team members and the customers we serve. When we have a community where each individual is seen and heard, we increase innovation, stronger employee engagement, better retention rates, and a better foundation for the future.
One of the most essential parts of my job is cultivating a space where everyone feels safe, empowered, engaged, championed, and inspired to be the best they can be. We center our core work around education and awareness. That includes designing global learning and development programs for inclusive leadership, such as unconscious bias and perception. Our organization leads with empathy, cultural curiosity, and all-in ownership at every level. Our work impacts our global team members, so we take great pride and care in building resources that would include each demographic.
The IEB team regularly connects with leadership to ensure our policies, benefits, and procedures are equitable for everyone. For example, we currently partner with LGBTQ+ advocate and educator, Shane Diamond, to assess and audit our current benefits and policies to ensure we offer the most comprehensive support to our LGBTQ+ employees. Through these thoughtful partnerships, we can provide a safe workplace for everyone to thrive and be their authentic selves.
The people here are, without a doubt, the best part of my job. Not only has everyone made me feel welcome since I started, but they have also helped me be more effective in my role. Like many teams at DraftKings, our work is highly collaborative, and its success largely relies on everyone prioritizing the IEB values. Equally important, I encourage my colleagues to view themselves as DEI leaders, no matter their level of experience, and empower them to own their commitment and learning in this crucial space.
Creating an inclusive and diverse workplace is an ever-evolving process as we continue to move forward. Every day, we continually strive to improve our strategy and goals. The work consists of practicing a more focused data-driven approach to understand and identify gaps, develop appropriate action plans, and effectively measure progress to promote long-lasting, meaningful change. As DraftKings continues to grow globally and culturally, we must all pitch in to foster a culture that is on par with our community values. I know there is a lot more work to do, but I am ready to support our community just as it has supported me.
At DraftKings, we remain focused on our IEB efforts across our global teams and offices. Our leaders continue to partner closely with Marjorie's team to ensure we are an inclusive and equitable organization. Everyone has a voice and everyone belongs here.
Check out the latest DraftKings blog posts and meet our global team!
Read our Blog