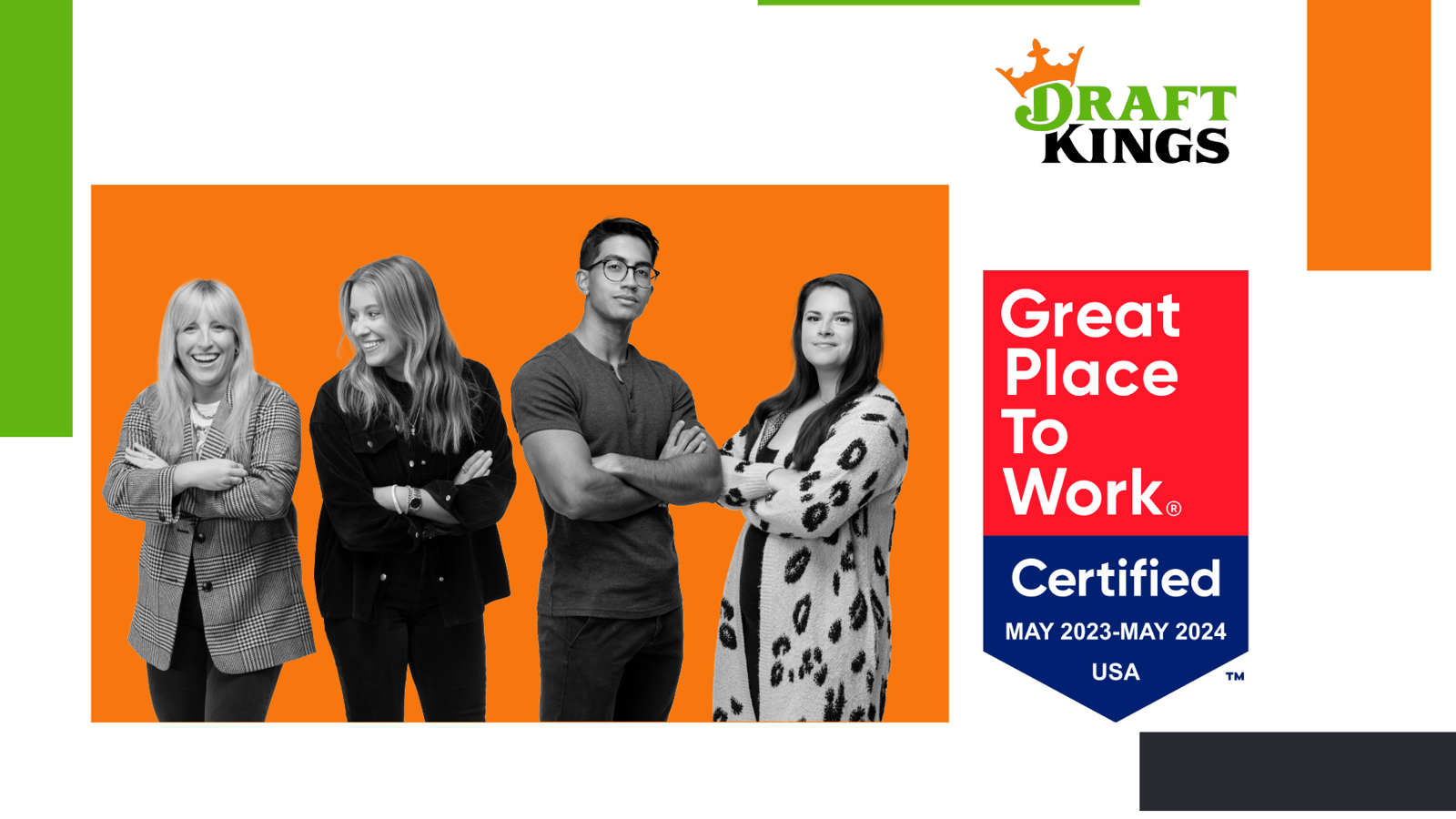 DraftKings Awarded As A Great Place to Work!
We are honored and thrilled to announce that DraftKings has been certified as a Great Place to Work in 2023! What does that mean? The prestigious award is based entirely on what current team members say about their experience working here. This year, 87% of employees said DraftKings is a great place to work – 30% higher than the average U.S. company. And 92% of our teammates say they feel welcomed when joining the company. If those numbers intrigue you, keep reading to learn more about our people and working at DraftKings.
Through collaboration and ownership of their work, our DraftKings team members have built a workplace culture supporting career growth, volunteer opportunities, and various global charities. With unparalleled benefits and perks such as 14-week paid parental leave to every global team member, fully stocked kitchens with snacks and coffee, complimentary in-office hair and nail salons, comprehensive career development plans, and a workplace that celebrates you for you, DraftKings aims to continue building an inclusive and wonderful place for everyone to work.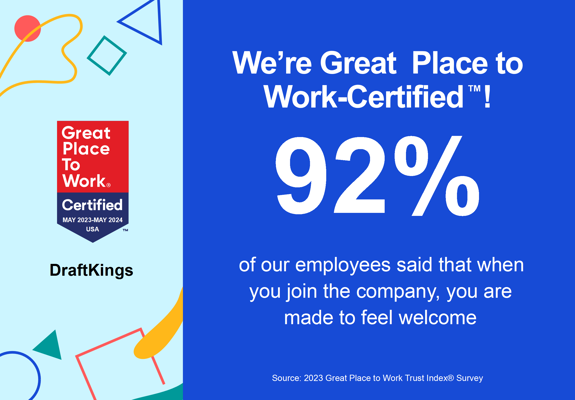 Great Place To Work® is the global authority on workplace culture, employee experience, and leadership behaviors proven to deliver market-leading revenue, employee retention and increased innovation.
"Great Place To Work Certification is a highly coveted achievement that requires consistent and intentional dedication to the overall employee experience," says Sarah Lewis-Kulin, the Vice President of Global Recognition at Great Place To Work. She emphasizes that Certification is the sole official recognition earned by the real-time feedback of employees regarding their company culture. "By successfully earning this recognition, it is evident that DraftKings stands out as one of the top companies to work for, providing a great workplace environment for its employees."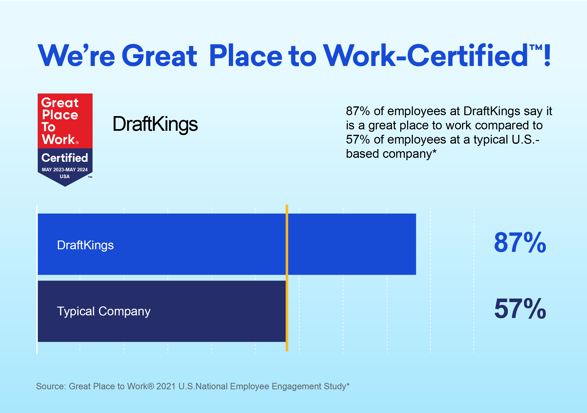 At DraftKings, our people are the focal point. Every person on our team is supported and empowered to chase their career goals. From comprehensive and competitive global benefits to full autonomy within our grassroots Business Resource Groups that ladder up to our larger Inclusion, Equity, and Belonging mission.
If you want to work at a company that makes you feel welcome, encourages a healthy work-life balance, and with people who care, join DraftKings and discover the impact you'll make here. Take it from our teammates who say DraftKings is a great place to work.
Check out the latest DraftKings blog posts and meet our global team!
Read our Blog