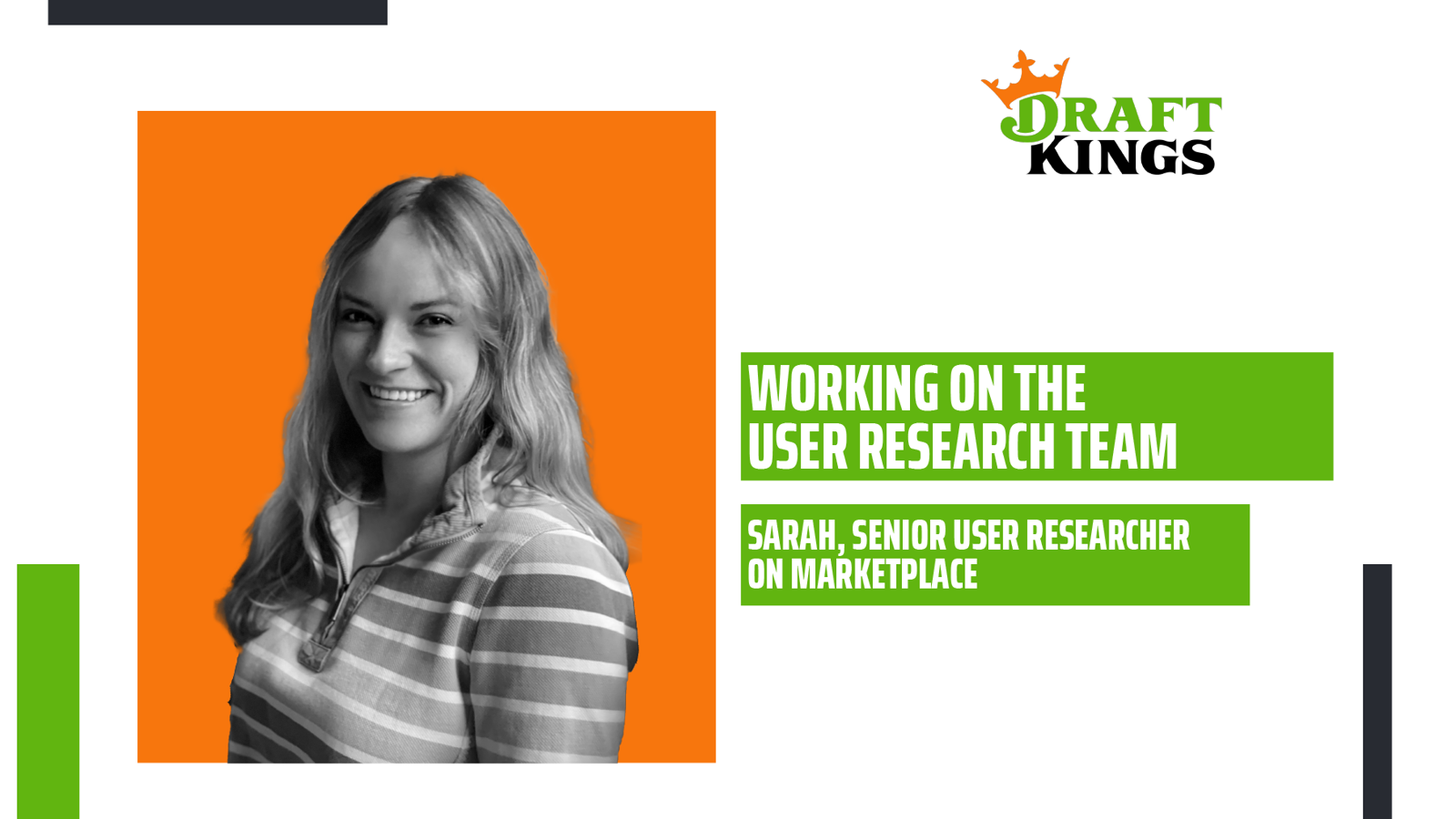 What Does A User Researcher Do?
You might have heard some buzz around our new vertical in the NFT Marketplace, and rightfully so. We recently chatted with Sarah (she/her), a Senior User Researcher in Marketplace, to learn more about her role, NFTs, and her time at DraftKings for the last three years. Sarah started her user research career on the Daily Fantasy Sports team before pivoting to Marketplace this summer. Read more to see what fuels her passion for her work.


Tell me a little bit about yourself and when you joined DraftKings. Where are you located?
I'm a Senior User Researcher based in Boston and I've been working at DraftKings since February 2019. I grew up in Canada and fell in love with this part of the world when I moved here for school in 2016. When I'm not working, you can find me baking, running, hiking, or dining out in the Boston area.
How did you get into this role? What drew you to DraftKings?
I have always been fascinated by why people think and act the way they do, so I studied Cognitive Science in undergrad and worked in a few psychology research labs at school. It was only when I was in grad school that I discovered user research as a career and it just clicked –  interviewing customers, studying their behavior, building a deep understanding of their motivations, identifying opportunities to meet their needs and fix their pain points – how cool is that? As soon as I met my future colleagues during the interview process I could tell that DraftKings was an incredibly exciting place to be, full of smart and driven people who were leading an industry. It's been quite the ride ever since. 
What exactly is Marketplace? Or an NFT for that matter?
An NFT, or a Non-Fungible Token, is a one-of-a-kind digital item. Only one person can own a given NFT at a time, and it comes with a digital record of ownership. These days, NFTs can take the shape of digital art, memes, tweets, or sports-related content, like the Tom Brady NFTs we sell on DraftKings Marketplace. It's a place where you can buy brand-new NFTs during our live drops, buy them on the secondary market, or place the ones you own for sale. 
What's the most interesting thing about your role that others may not know about?
User researchers are the central hub of customer-centric information across product managers, designers, analysts, and beyond. We hear directly from DraftKings customers through 1-on-1 interviews, usability tests, surveys, diary studies, co-creation sessions, card sorts, and visits to our super cool Boston HQ User Experience lab. 
What helps you succeed and thrive in your job?
I do my best work when I feel a sense of belonging. The user research team does a wonderful job of fostering a positive, encouraging, and often hilarious environment where we learn from and support each other. 
Any advice for someone who's looking for a role in the NFT Marketplace?
The world of NFTs is growing and changing every day. Keep tabs on what's going on with all the new applications of this technology.
How do you stay connected with your team during these times?
The user research team has a few Zoom meetings a week, an active Slack channel, and more recently, a highly competitive Music League contest (everyone picks a song based on a theme and we all vote on our favorites). We occasionally meet up in person when it is safe to do so.
If you're innately curious and love working with data, check out our open roles and see if you have what it takes to build the next generation of tech with us.
Check out the latest DraftKings blog posts and meet our global team!
Read our Blog