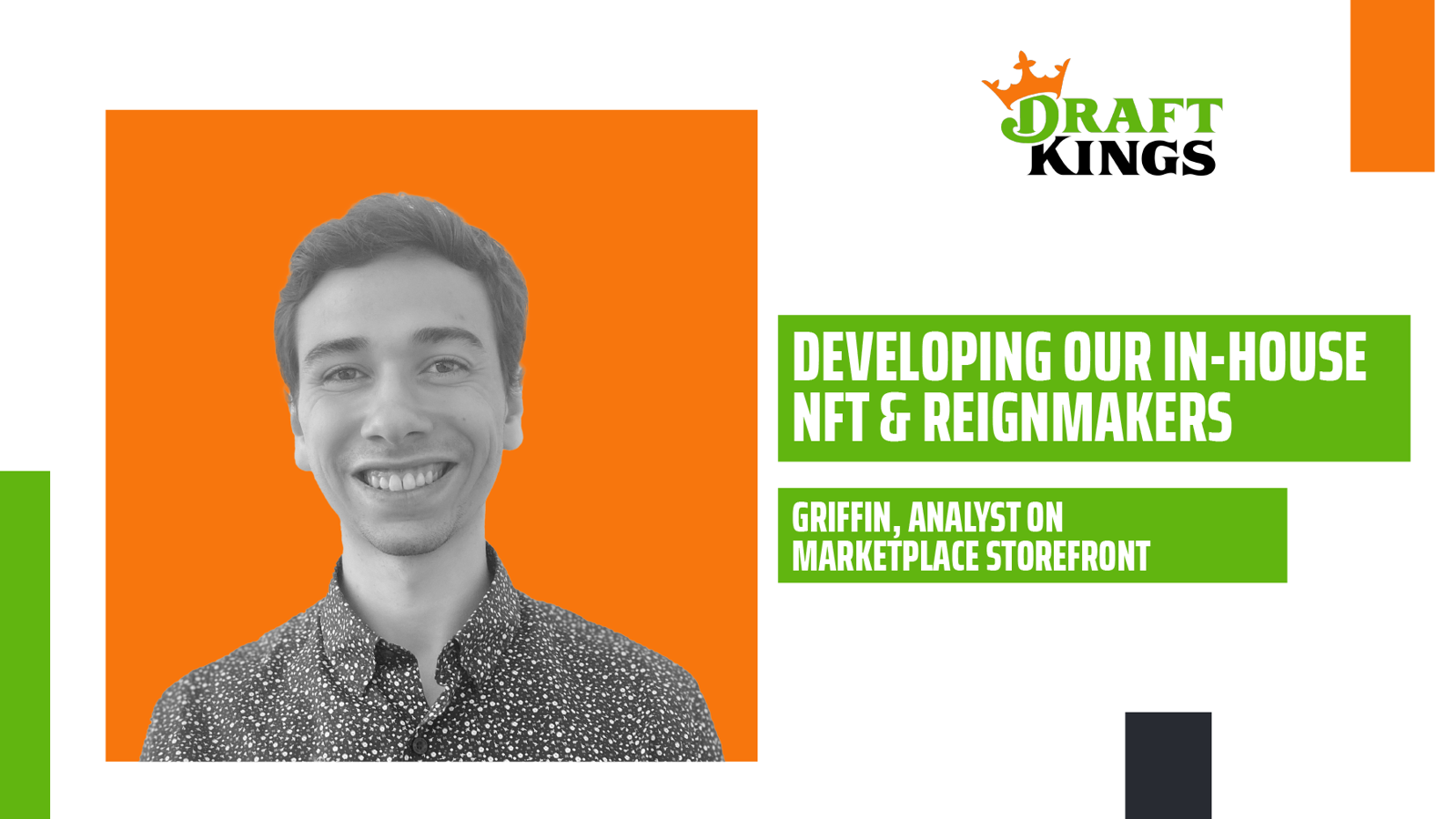 Developing DraftKings' NFTs and Reignmakers
Last summer, we launched a new vertical focused on the Web3 space, the DraftKings Marketplace. Since then, we've collaborated with multiple NFT brands, developed our own in-house NFTs, and now we are set to enter our next phase with Reignmakers, the next generation of fantasy football. 
Griffin, an Analyst on our Marketplace Storefront Analytics team, joined DraftKings earlier this year. Despite being new to the Web3 space, Griffin challenged himself to something new and learned the ropes quickly. Learn more about his work with the DraftKings Marketplace and Reignmakers below.
Tell me a little bit about yourself and when you joined DraftKings. Where are you located? 
My name is Griffin, and I work on the Marketplace Storefront Analytics team - or simply "NFT Analytics," as I've heard some people call it. My favorite things are walks around the city of Boston, especially to discover new coffee shops, parks, and college football. Go Blue Devils, Badgers, and Aggies! I grew up in New England, a bit north of Providence, but went to college at Duke in North Carolina. I joined DraftKings half a year ago after working at another tech company for my first few years out of college. I wanted to apply my interest in analytics to more cutting-edge domains while getting closer to my passion for sports.
How did you get into the NFT space?
Before joining DraftKings, I was primarily interested in physical and digital sports collectibles like Top Shot and memorabilia. When I saw the opening for an analyst position on the DraftKings Marketplace team, it seemed right up my alley. Despite not being deeply involved in Web3 before joining, I've been able to immerse myself in the space over the past seven months. 
Can you tell me more about launching DraftKings' in-house NFTs?
Primetime Series
A lot of people worked incredibly hard to make it happen, and all of our collections are reviewed extensively before dropping. We always consider the customers' interests and industry trends to ensure we create digital collectibles with value, especially with in-house collections to feature utility that spans across our other verticals. Getting an NFT from DraftKings isn't just acquiring a collectible - it opens the door for things like special contests, swag, and many more surprises. 
When we launched the Primetime series, it was a ton of listening to DraftKings customers. The thing about these Web3 launches is we have more real-time sentiment information than ever. Beyond our traditional engagement analytics, we regularly engage with our users on Discord, providing us with fresh and candid feedback. The biggest highlight was seeing the first few queues fill up and tracking their performance in real-time, followed by seeing customers' reactions in the DraftKings Marketplace Discord channel. 
Reignmakers
Since launching DraftKings Marketplace last year, our most significant achievement has been the launch of the Reignmakers series. So much thought went into this - the entire team has been working for months to ensure we're making a unique and competitive game for our customers, fully leveraging the capabilities of our Web3 platform. 
My personal highlight has been watching customer pack openings  - this organic content is awesome to watch because it shows the excitement involved in our product. I'm constantly pulling up live streams to see people's reactions to their card pulls. I wish I could play the game myself!
I think the coolest element of Reignmakers is how the secondary market will react to players. Many others have explored the concept of a trading market for athlete performance, but our secondary market is a literal market for these athletes. Seeing how roster adjustments, scheduling, and matchups affect the market value of a player from week to week is extremely intriguing. I think Reignmakers will put a whole new spin on how fans view fantasy football. 
What makes our Marketplace unique from our competitors?
Reignmakers is our biggest differentiator from competitors right now - no other operator is offering a product like this, and our deal with the NFLPA connects it directly to the players themselves. Other NFT marketplaces focus solely on collectibles and with a smaller scale of utility. Our collectibles are tied to the biggest moments in sports, and often the utility itself is tied to what happens on the field of play. These features create a fantastic and immersive sports experience for sports fans - exclusive contests, rewards, and unique collectibles that forever commemorate your involvement in that experience. 
Any advice for someone who's looking for a role in this space? Do you need NFT experience to apply?
What's great about joining the DraftKings Marketplace team is you don't need to have true Web3 experience and they value background diversity. As I mentioned, I had limited experience before joining, and we have all kinds of roles on the team that contribute to making these drops successful: paid social marketing, community engagement, analytics, etc. Most importantly, I'd say interest and excitement for what we're accomplishing here with our commitment to Web3 are all you need to find success on the team. 
If you're ready for a new challenge and to join the growing Web3 and NFT space, be sure to check out the newest career opportunities!
Check out the latest DraftKings blog posts and meet our global team!
Read our Blog